When Marty — then Martel — came to us on April 21st, 2016, we knew we had someone special on our hands. Even as a stray pup, Marty was energetic, intelligent, and loving as ever!
Between Marty's first behavior exam and play groups with other dogs, our Behavior Supervisor Ethan Hrabe noticed some special qualities that told him Marty might be more than meets the eye.
Ethan explained that sometimes one-in-a-million dogs show up at the shelter who would be perfect for a life of service — which is exactly what he saw in Marty. "I usually look for how ball-driven a dog is. How motivated they are to chase, search for, and maintain possession of a ball. This behavior can easily transfer to the traits required to be a good candidate for search and detection programs," Ethan explained.
"I first noticed Marty's desire to find and search when I had him in our behavior examination room for some play time. We were playing with a tennis ball, and I noticed that Marty would do just about anything to get that ball. Once, he even jumped on top of a freezer to get to the ball." said Ethan.
Ethan wanted to put Marty's skills to the test, so they took Marty to a local farm and feed store to see what he was capable of. They hid tennis balls throughout the store, and Marty found every last one!
After that A+ performance, the Lawrence Humane Society reached out to the South Dakota Canine
Center which specializes in finding careers for talented pups just like Marty. They submitted videos of Marty's skills, and within a few days the South Dakota Canine Center was here to pick Marty up for training!
After a few months of training, Marty was on his way to Rushville, Indiana, to begin a career as a narcotic detection K9 for the Rushville Police Department. Marty spent three years working alongside his handler, Officer Zane Faw (pictured).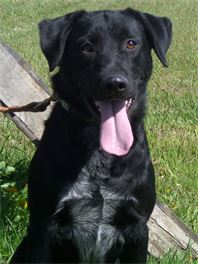 But the story doesn't stop there…we recently learned Marty has expanded his career to serve the Rushville School District! Marty can officially list "emotional support animal" on his lengthy resume. He will be in the classrooms every day contributing to a positive school climate for children of all ages. With Marty's intelligence, we wouldn't be surprised if he learned algebra or how to read while he attends school every day!