Lawrence Humane Society volunteers give their hearts and their time to provide love and support to the animals in our care. Our volunteers are integral to our mission, and are involved in all areas of the shelter. As a member of our volunteer family, you'll help save and enrich the animal's lives, improve animal welfare in our community, discover new skills, and enjoy plenty of wagging tails, purring hearts, and wet kisses along the way.
Have other questions? Email, Ashley, our volunteer coordinator at aricekeen@lawrencehumane.org!

A minimum of four hours of Essential Shelter Help must be completed before volunteers are allowed to work directly with animals.

There are volunteer shifts every day from 9am-6:00pm

Volunteer waivers must be signed and turned in on your first shift

$15 volunteer fee will be paid at beginning of first shift

Please sign up for shifts in advance

Clock in and out for all shifts
Must wear volunteer t-shirt, long pants, and closed-toe shoes at all times while volunteering at the shelter. 

Are you an organization who would like to schedule a tour or group service day? We love to welcome folks into our building and do our best to accommodate as many volunteer projects as possible. To provide the most meaningful experience, we consider a variety of factors whether to approve a group service request. These include but are not limited to staff availability, strategic goals, and relationship with the organization or individual submitting the request. Applications must be submitted at least two weeks in advance.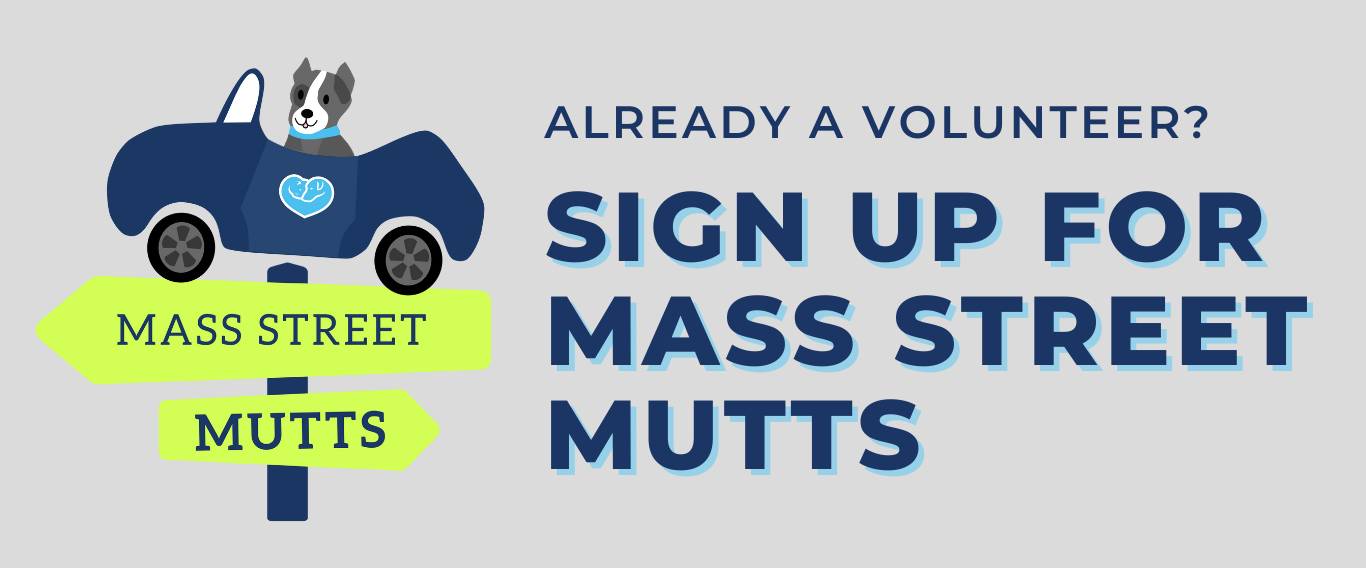 Mass Street Mutts is a bonus program for Lawrence Humane fosters and volunteers…and it's amazing for the dogs in our care at the shelter! This program allows you to take a shelter pet out for a daycation. All you have to do is pick your preferred date/time to pick up a pup. Then, you'll be matched with a dog that matches your interests. For example, if you're comfortable spending time with a high-energy dog and plan to go hiking, we'll pair you with a dog that's ready to adventure! Together, you can choose to stroll downtown, go for a hike, or just cuddle on your couch.