The Lawrence Humane Society is always looking to add compassionate, talented individuals to our team. If you're interested in working with us, check out our employment opportunities today!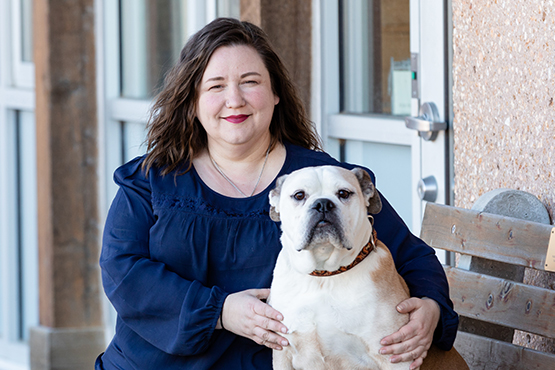 Shannon Wells is a native of Kansas City, MO. Before joining the staff at the Lawrence Humane Society as the Executive Director, she spent 8 years as the Director of Operations & Animal Behavior for Kansas City Pet Project, a nonprofit animal welfare organization operating the City of Kansas City's municipal animal shelter. Shannon was with Kansas City Pet Project from its inception, and helped to grow operations, expanding from a staff of 20 in 2012 to over 100 employees across 3 locations, increasing the scope, quality of services, and lifesaving capacity provided to Kansas City's animals in need along the way. During her tenure there, Shannon received national recognition from the Petco Foundation and renowned dog trainer Victoria Stilwell when she was awarded the 2018 Unsung Hero Award for her lifesaving work in the shelter's Parvo ward, as well as the Petco Foundation's Paul Jolly Award for Compassion, bestowed to the shelter in 2014. In addition to her leadership experience, Shannon is also a certified professional dog trainer and has utilized her expertise in animal behavior and training to develop and implement behavior programs to ensure adopted pets are successful in their new homes. Shannon enjoys educating people as much as working directly with animals. Shannon holds a Master of Science in Veterinary Medical Sciences from the University of Florida where she studied Veterinary Forensic. Shannon has worked professionally as a veterinary assistant for 7 years. Shannon is the proud adopter of three shelter pups (Momma, Tug, and Finnegan Cooper) and she believes that ensuring they are happy and healthy is her most important work of all.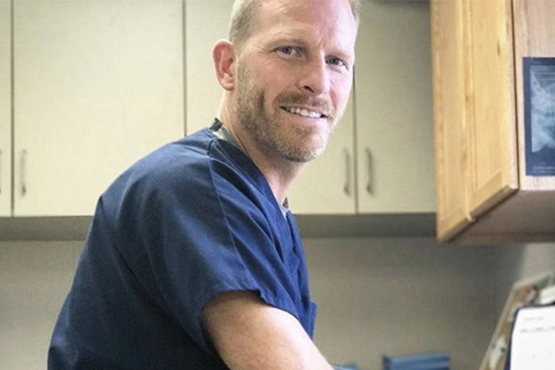 Dr. Luke Pickett joined the Lawrence Humane Society in February 2017 after serving 10 years as the Chief Veterinarian at Wayside Waifs in Kansas City, Missouri and a tenure at Mixed Animal Practice in Platte City, Missouri. Dr. Picket holds a Bachelor of Science in Biology from Emporia State University and a Doctor of Veterinary Medicine from Kansas State University. Dr. Pickett is thrilled to be working for the Lawrence Humane Society, and looks forward to making a positive impact in the lives of homeless, injured, and abused animals in the community. When he's not caring for homeless animals, Dr. Pickett enjoys spending time with his wife and three adorable children.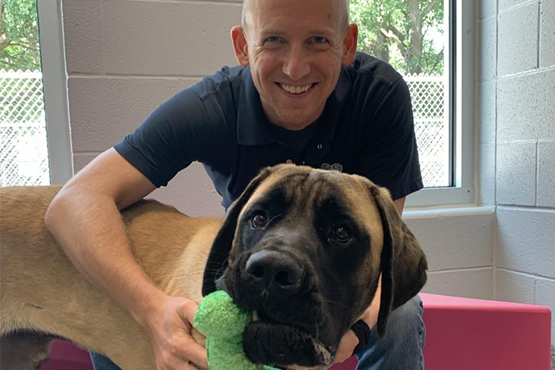 Paul Marksbury joined Lawrence Humane Society in December 2016. Prior to this role, he served as Affiliate Services Manager for Youth Volunteer Corps, a nonprofit that creates service projects for 11-18 year olds. He was with YVC for more than 10 years, starting as a Team Leader before becoming the Kansas City Program Director and finally joining the national office to train, support and evaluate a network of dozens of affiliated YVC programs across North America. Paul holds a Bachelor's Degree in Communications from Kansas State University (but he still loves Lawrence).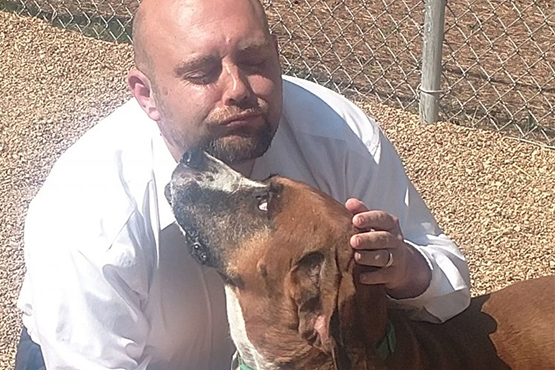 Director of Development and Communications
Michael LaFave grew up with a mother who had her own petting farm, a grandfather who showed Irish Setters and an Aunt who runs an all-breeds dog rescue. His initial career was in journalism, as a producer for his hometown television station in Central New York. He worked his way up the ranks in television news management, plying his trade at various stations. Michael then began using the communication skills he developed in newsrooms for the nonprofit world. Development responsibilities were soon added to his communications role. After traveling the country for several years, Michael, his wife, Meredith, their black cat and basset hound, settled down in the Midwest, where he helped young nonprofits craft strategy, development, programming and communications plans. That long road has led Michael to the Lawrence Humane Society where he is excited to raise the funds necessary to ensure every pet has the second chance at the home, health and happiness they deserve.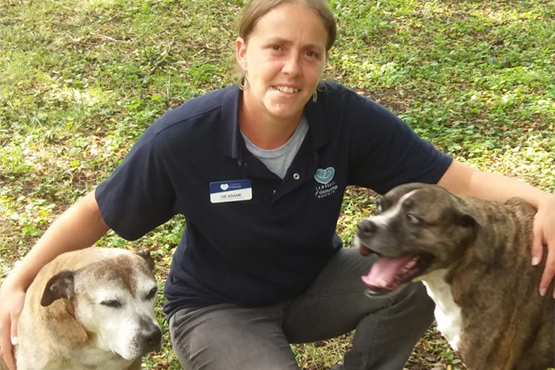 Liz Adams joined the Lawrence Humane Society in August 2007 as an Animal Care Associate, and has held a variety of positions including Canine Care Coordinator and Shelter Supervisor. Currently, Liz serves as the shelter's Animal Welfare Manager. As a Lawrence native, one of Liz's favorite parts of her job is helping the community she loves. Liz shares her home with her husband, Ryan, and two Lawrence Humane Society adoptees, Ennis, an 8-year-old Shar Pei mix, and Jade, a 5-year-old Boxer mix. In her free time, Liz enjoys camping and spending time outdoors.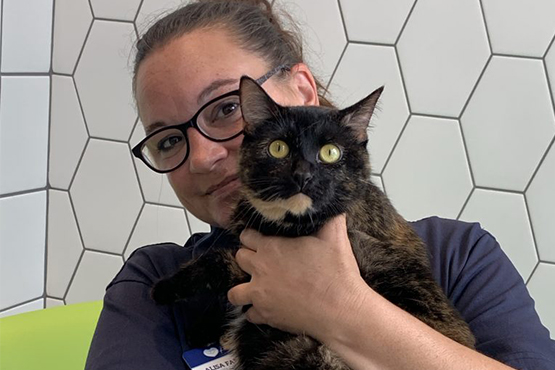 Community Programs Manager
Alisa's first personal dog was Frankie (a bully breed, who lived 16 years). Frankie sparked a passion for advocacy and education which started her journey in animal welfare by volunteering with Game Dog Guardian. She became an active volunteer for the organization through fostering and coordinating events. Her passion, inspired by her time with GDG, led her to professional track when she accepted a position with a privately owned boarding facility in Olathe, KS, working her way up to Co-General Manager. After three years, she was ready to jump into animal welfare where she became the Manager of Petco Adoption Center for Kansas City Pet Project. Alisa, a Lawrence resident, is now excited to be working for her community animal shelter, and looks forward to increase awareness and implement community programs at the Lawrence Humane Society. In her free time, Alisa enjoys cooking, spending time with family, and working with her fur babies, Ernie and Winnie (GDG alumns!), using positive reinforcement training. She really really wants a cat to complete her fur-family, but Ernie and Winnie totally disagree.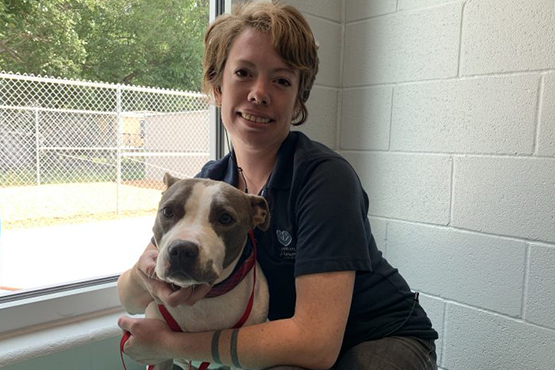 Pet Resource Center Supervisor
Tia Ezell grew up in the small town of Yoder, KS with her four siblings (her best friends!), as well as a multitude of cats, dogs, chickens, and her horse, Janga. After obtaining a degree in sociology from Wichita State University and working with kids for 5 years, Tia moved to Lawrence in 2012 and, shortly thereafter, started working at the Lawrence Humane Society. Prior to beginning her current role as the Foster & Transfer Coordinator in early-2016, Tia worked as an animal care associate, client care associate, and medical staff member. She absolutely loves working with both people and animals, and has been thrilled to be able to combine these passions in the ever changing, exciting field of animal welfare. At home, she surrounds herself with furry friends, including Lillian the pitbull, Zeke the Schnauzer, and three chatty boy cats, Lovett, Neil, and Ruben. In her free time Tia enjoys obsessively cleaning her house, roaming around outdoors and downtown with her dogs, cooking with friends, and visiting home as often as possible.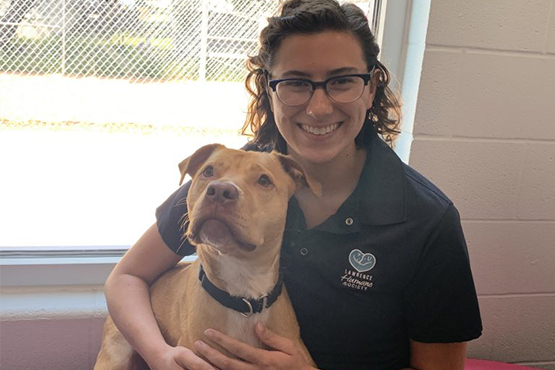 Volunteer and Outreach Coordinator
Alicia Godwin joined Lawrence Humane Society in May 2017 as a volunteer, and then quickly moved on to become an Adoption Counselor in June 2017. Alicia was part of the Adoptions team for almost two years, and she is currently serving as the shelter's Volunteer and Outreach Coordinator as of April 2019. Alicia misses working with the animals as directly as she did during her time on the Adoptions team, but she still makes time for animal play breaks throughout the day. Alicia graduated from the University of Kansas in May 2016 with a Bachelor of Fine Arts degree, with a focus in Textiles and a minor in Art History. Alicia has always had a love of animals, and likely would've gone to school to be a veterinarian if she was any good at math and science. Unlike most of her coworkers, Alicia doesn't have any pets of her own, but she does have two family dogs back home, an 11-year-old Golden Retriever, Abby, and a 1-year-old Pitbull, Theo. Alicia was Theo's foster when he was rescued as a puppy, and convinced her parents to adopt him after losing their 12-year-old Golden Retriever, Ellie, a few months earlier. In her free time, Alicia likes to work in her garden, take naps, and knit or embroider.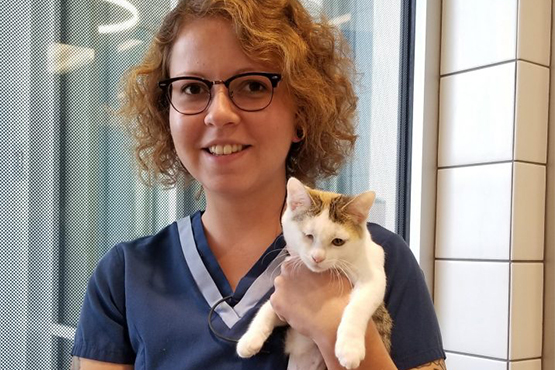 Megan Herman joined LHS team in 2013 as an Animal Care Associate. Over the years, she bounced around several other areas of the shelter while finishing Vet Tech School. Upon graduation, she joined the brand new medical team, eventually working her way up to Clinic Manager. Megan considers this role as her absolute dream job and loves that she is able to put her education and compassion to use, helping the people and animals in our community. In her free time, Megan enjoys spending her time with friends, fostering neonatal kittens as well as a variety of other medical anomalies, and spending time with her cats, most of which are previous LHS fosters — Monty, Sol, Crahes and Toby.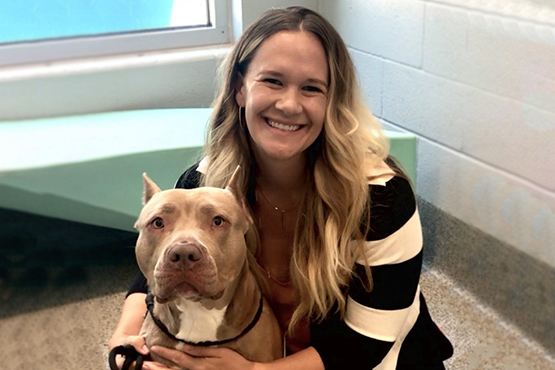 Katie graduated from Missouri State University and received her Juris Doctor from the University of Kansas School of Law. She was awarded the Walter Hiersteiner Outstanding Service Award by the law school faculty, which is given to the student whose service to her fellow students, university, and community, demonstrates the greatest promise for contribution to the legal profession and to society. Katie is the Founder of the KU Student Animal Legal Defense Fund, founded the Animal Cruelty Prosecution Clinic in conjunction with the Lawrence Humane Society, and worked for Best Friends Animal Society while in law school, and upon graduation as a legislative attorney. Katie operates her own practice in Lawrence, focusing on animal law and municipal law; representing pet owners, as well as cities, and training law enforcement on animal issues. The Lawrence Humane Society has been a client since the practice opened. Katie works as our Animal Welfare Counsel and liaison for legislative and legal issues on a state and local level. Katie is licensed to practice in Kansas and Missouri, and is a frequent speaker and author regarding animal law matters. Katie is a member of the Lawrence Human Relations Commission and a board member of the Symbiotic Behavioral Treatment Center. She lives in Lawrence with her husband Anthony, their two daughters, and four dogs, including Liam and Leonidas, who are registered therapy dogs with Pet Partners.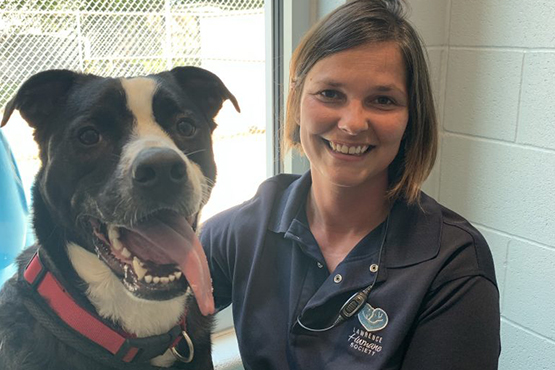 Rikki Swearengin has had a love for animals for as long as she can remember. As a child Rikki had many pets and was constantly trying to bring home every stray that crossed her path. At the age of 14, she began to volunteer with the Lawrence Humane Society. The idea to make her passion her career quickly formed soon after. Rikki was hired as a Kennel Technician. In 2003, she left the Humane Society to explore other opportunities, but realized that something was missing in her career. In 2010, Rikki rejoined the Humane Society family as a Client Care Associate and, since then, has held many positions. She currently serves as the shelter's Humane Investigation Manager and, in June of 2016, was certified as a Humane Animal Investigator through National Animal Cruelty Investigations School. When Rikki is not at the Humane Society, she is enjoying time with her children and pets.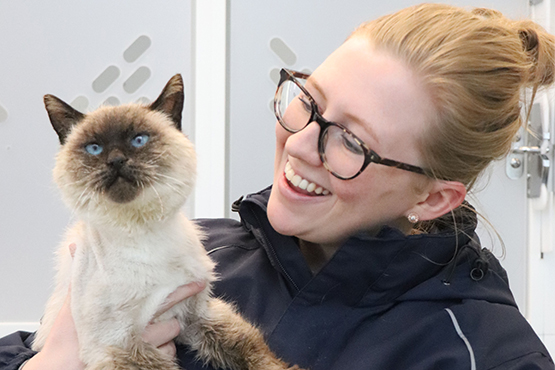 Sydney Martin joined the Lawrence Humane Society as the first-ever Content Creator in January 2020. With a background in graphic design and marketing, she utilizes her design and video skills to create entertaining content for the organization. Sydney is excited about the opportunity to use her creativity to help animals find their forever homes! In her free time, you'll find her cooking up a storm in the kitchen, working on house renovations with her husband, traveling to the mountains, and exploring the beautiful city of Lawrence with her 4-year-old Australian Shepherd, Mishka.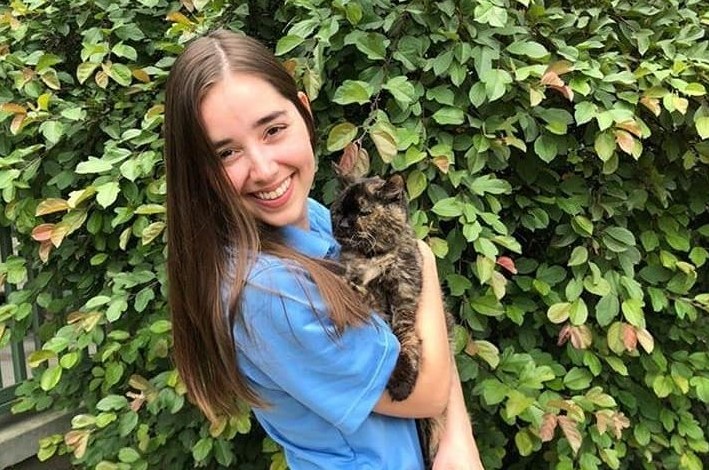 Donor Experience & Grants Coordinator
Angela Wright started as our Mission-Driven Development Intern in January of 2020. After we saw her work ethic and passion for our cause, she became the new Donor Experience & Grants Coordinator. Angela graduated from Johnson County Community College with an Associate of Arts degree in 2018. She plans to graduate from the University of Kansas with a degree in Strategic Communications and a minor in Spanish in May of 2021. Before her roles here, Angela worked in promotions for Kansas City radio stations, was a student reporter for the Eudora Times, tutored students in writing and learned marketing and strategy from internships. Her variety of past experiences have prepared her to blend both creativity and analytical thinking into her work. She is responsible for stewarding relationships with donors, segmenting our donor relations, spearheading our event planning, researching and applying for grant opportunities and writing copy for our direct mail campaigns, as well as other materials. Angela's rescue inspiration is her childhood cat, Middy, who was adopted as a stray after her family found her hiding in the garage during a blizzard.

As a 501(c)3 nonprofit organization, the Lawrence Humane Society is governed by a volunteer Board of Directors. The Board determines and defines the organization's mission, identifies its purpose and goals. The Lawrence Humane Society Board acts as the overall governing body, voting on major policy issues and playing a role in fundraising and community outreach.
The Board of Directors meets on the fourth Wednesday of each Month at 6:00pm. The first 15 minutes of each meeting are open to the public for questions, comments, and suggestions. If you would like to attend, please email us so we can provide sufficient time in our agenda.
2020 Board of Directors
Chair:
John Olsen, Evergy
Vice Chair:
Sandra Gautt, Community Volunteer
Treasurer:
Dale Finnestad, Hill's Pet Nutrition
Secretary:
Charlotte Tritch, University of Kansas
Members:
Hilary C. Edwards, Willdan Performance Engineers
John Hanley, Equity Bank
Paula Hatcher, Community Volunteer
Dakota Loomis, Law Firm of Dakota Loomis
Alice Karakas Neumann, Education & Volunteer
Kirk Putman, Interim Executive Director of the Lawrence Humane Society (Retired)
Jolisa Buchner, Community Volunteer, Former Capital Campaign Co-Chair
Diretor Emeriti:
2013-2019 Al Horning, Hill's Pet Nutrition (Retired)
2012-2019 Judy Hintzman, Ransom Memorial Hospital

Put your passion to work!
Lawrence Humane Society employees are a dedicated group of people committed to animal welfare. We value innovation, compassion, and excellence, and are always looking to add talented individuals to our team!
In addition to competitive salaries, we offer a comprehensive benefits package to our full-time staff members. Our benefits are designed to help our staff lead healthy and rewarding lives. They include:
Health insurance
Voluntary supplemental insurance programs
Vacation and sick time
Discounts on pet food, medication and limited veterinary services
Reports to: Executive Director
Supervises: Operations Specialist, Animal Welfare Manager, Community Program Manager, Pet Resource Center Supervisor, Behavior Coordinator
Classification: Salaried (Exempt), Full-time
Position Summary
Are you a mission-driven, highly motivated leader looking to make a positive impact on the lives of pets and people?
The Lawrence Humane Society (LHS) is seeking a dynamic individual to fill the position of Director of Operations, leading daily shelter operations and supervising a team of staff to provide progressive, life-saving programs for the animals in our care, and for the larger community of Lawrence, KS and Douglas County.
The Director of Operations will be responsible for:
Operational Management:
Overseeing daily shelter operations.
Employing sheltering best practices.
Ensuring humane and safe housing and care of animals.
Recruiting, training, and general supervision of operations staff including the Pet Resource Center, Animal Care & Enrichment, Behavior, Adoptions, Community Programs, Volunteer Management.
Cultivating staff through their continuing education.
Maintaining a positive company culture and employee morale.
Developing/updating/maintaining operational policies and procedures.
Providing direct feedback to employees on performance and maintain employee records; take disciplinary action when necessary.
Maintaining compliance with all local, state, and federal regulations.
Establishing positive relationships with external partnerships, including animal control.
Analyze statistical data to evaluate efficiency and efficacy of operations.
Lead staff meetings, small and large.
Strategic Management:
Collaborating with staff to develop innovative programs.
Work with the Executive Director and other directors and managers to develop strategic plans and organizational goals.
Fiscal Management:
Participating in annual budget planning.
Overseeing expenditures associated with operational departments.
Ensuring good stewardship of resources.
Developing/updating/maintaining SOPs for accounting, cash management, financial reporting, and budgeting are followed.
Negotiates cost-effective contracts for areas of responsibility.
Facility Management:
Ensuring the facility is clean and maintained.
Negotiating contracts and managing relationships with vendors and service providers to provide maintenance and repair to the facility.
The Director of Operations Should Demonstrate:
A commitment to the mission, vision, and goals of LHS.
High-quality written and verbal communications skills.
Appreciation for staff and volunteers.
The ability to motivate and educate others.
Required Qualifications and Skills
Bachelor's degree and a minimum of four years of management experience, including budgetary and staff supervision, in animal welfare or a similar field, preferably a not-for-profit or an animal welfare organization. Previous experience may be accepted in lieu of a degree where appropriate.
Demonstrated supervisory knowledge to include training methods, motivation and decision making techniques. Knowledge of employment-related laws and issues. Skill in mediating disputes, conflicts and grievances. Ability to train and effectively direct the activities of department heads.
Demonstrated program management knowledge to include statistical methods, budgetary practices, and knowledge of local, state and federal regulations for the workplace.
Must be a results-oriented self-starter who possesses strong leadership skills including outstanding communication skills – both oral and written.
Ability to build alliances with community organizations and agencies. Ability to establish and maintain effective working relationships with vendors.
Demonstrated personal communication skills to include knowledge of interviewing techniques, skill in writing and editing, and ability to express thought orally in a clear manner. Comfortable with public speaking.
To apply for this fulfilling opportunity, please click the "Apply Today" button at the bottom of this page. No phone calls please. Applications without a cover letter will not be reviewed.
Thank you for your interest in changing the lives of pet and people.
Position: Behavior Coordinator
Classification: Non-Exempt, Full-time
Reports to: Director of Operations
Supervises: Behavior Staff & Behavior Volunteers
Salary: $12-$14/hour
Position Summary: 
The Behavior Coordinator (BC) provides direction for the behavior and enrichment functions of Lawrence Humane Society. S/he will partner closely with the Director of Operations (DO) and Executive Director (ED) to develop, implement, and monitor all programs intended to identify, correct, and prevent problem behavior in cats and dogs, in addition to any new behavior initiatives LHS pursues. S/he will oversee and coordinate all behavior and enrichment functions, including daily playgroups for all dogs in the facility.  The BC will recommend appropriate treatment and placement pathways for shelter animals.
The BC is responsible for the supervision, training, development and support of behavior volunteers, as well as training new staff on LHS behavior programs and animal handling, body language, and more specialized behavior topics as needed. The BC is responsible for working with the Volunteer Coordinator to schedule behavior volunteer shifts and initial and ongoing animal handling and behavior training for new staff and volunteers.
Key Responsibilities: 
Oversight and Strategic Development of LHS Behavior Programs:
Supervise behavior volunteers, coordinating their training, placement, development, performance feedback and ongoing support

Review behavior program practices and procedures to ensure efficient and economical use of time and other resources, and creates and updates SOPs and policies as needed

Design and facilitate animal behavior and handling training to staff, providing follow up training and feedback as needed or requested, including on occasion, developing and directing behavior seminars and workshops for staff, volunteers, partners and the public

Maintain accurate and complete records on animals, behavior modification plans, staff, volunteers, correspondence with the public, and activities related to behavior program

Engage in open communication with DO to give and receive input regarding procedures, policies, personnel and budget issues related to behavior program

In collaboration with the DO, Animal Welfare Manager and other colleagues, develop, maintain, and evaluate processes and procedures related to the behavior program to facilitate the smooth and timely flow of animals through the shelter

Meet with DO on a regular basis to ensure goals are being met and priorities are aligned
Daily Operation of Behavior Programs:
Oversee the execution of daily behavior program activities, including playgroups, dog and cat assessments, and animal socialization training classes

Provide referral information and advice on animal behavior issues, training methods and training equipment to staff, volunteers, other stakeholders and the public both scheduled and unscheduled

Design and manage individual training programs and behavior modification plans for shelter animals to improve behavior and increase chance for adoption

Meet with members of the public who are surrendering their animal to glean detailed behavior information in order to help decide appropriate placement for the animal
Administrative:
Draft an annual budget for the behavior program, tracking spending through the year to ensure adherence to the budget and requesting amendments as needed  

Prepare monthly report on behavior program activities

Collect data from new and existing behavior programs and activities to assess their feasibility and measure their effectiveness
Position Requirements:
At least 18 years of age and a legal U.S. Citizen or Permanent Resident
High School Diploma or GED

Bachelor's degree in related area (may substitute adequate relevant work experience)

Formal training in animal handling, training, and behavior evaluations

Ability to assess and evaluate new animal training methods and equipment

Knowledge of cat and dog breed characteristics and behaviors, animal restraint and handling techniques. Ability to interpret animal body language.

Demonstrably sound judgement in dealing with the public and handling sensitive and confidential information

Able to communicate effectively in person, on the phone, and through writing with people of various ages and backgrounds

Ability to work independently and as part of a team

Commitment to ongoing learning and growth

Windows and Microsoft Office proficiency

No allergies to animals or chemical cleaning agents

Some flexibility in availability to adjust work schedule in support of events and deadlines

Experience in a supervisory role
Preferred Skills/Knowledge:
Formal dog training certification

3+ years of work experience in an animal sheltering environment 

Basic knowledge of Google applications

Demonstrated teaching ability including basic teaching methods and curriculum development

Experience in planning, leading and managing strategic projects

Experience designing, conducting and analyzing research projects in an animal shelter environment
Work Environment and Physical Demands:
Work in a stationary position for extended periods of time using a computer

Traverse the LHS facility and grounds for extended periods of time performing labor that may include walking, reaching with hands and arms, climbing and balancing, stooping, kneeling, crouching and/or crawling, lifting up to 50 pounds without assistance and operating various tools and equipment

Exposure to animal bites, scratches, dander, parasites, infectious diseases, strong odors and fumes from caustic chemicals and animal waste

Exposure to wet, cold, and/or humid conditions while working outdoors

Exposure to high noise levels

Use of a portable radio and headset required

Operate LHS vehicles, including a truck and full-size van
This job description provides a general understanding of the position and nature of work, but is not intended to be an exhaustive list of qualifications, skills, efforts, duties, responsibilities, or working conditions related to this position. Lawrence Humane Society is an at-will employer. The employee or employer may terminate employment at any time, without cause.
To apply for this position, please click the button below.
Rolling Application Acceptance:
SIGN UP FOR NEWS & UPDATES