Many of you might be familiar with this dynamic duo that we posted to our Facebook page back in May of 2020. Gus and Mabel were brought to the Lawrence Humane Society as transfers from another shelter in April. All we knew upon intake was that Gus and Mabel grew up on a farm around horses and livestock. They had been best buddies and attached at the paws for 6 years so we knew they'd have to go to a new home together! It's a tall order to place two dogs, especially of their size!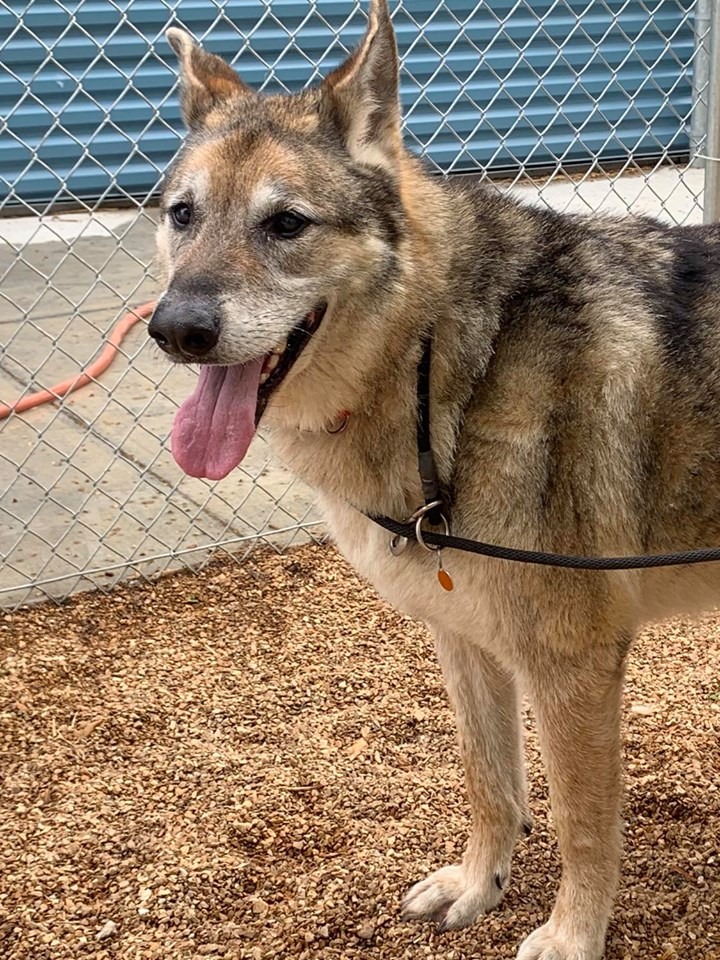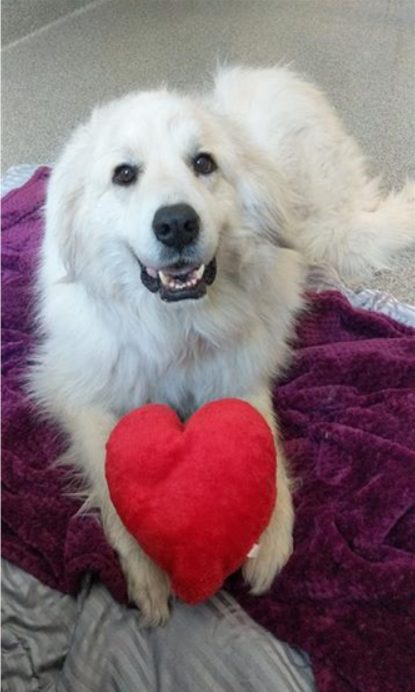 They waited as patiently as they could for us to to find them a home but shelter life was taking a toll on the pair, especially Gus. Since they were larger dogs and used to a lot of room to roam around, the space we could provide them just wasn't cutting it. Gus was especially anxious and longed to be with people. His stress visibly increased by the day. It was hard to see these sweet angels waiting at the shelter and we knew they would be happier with a bit more space so we reached out to the wonderful Lawrence community for help. The response on our social media was incredible! So many people shared and rallied to help us find a temporary home full of relief and love while we searched for Gus and Mabel's forever family. Our prerequisites for the perfect foster fit were as follows:
In order to be the right home for Gus and Mabel, you need to:
It didn't take long for Victoria Bond and her family to say "yes please!" to taking in these gentle giants as fosters. 
A few hours after she brought them home, she reported that the loving seniors were thrilled to have some outdoor time with the family. Mabel was smitten with the Bond children and Gus was rather keen on the koi pond in the backyard. Our hearts just exploded seeing how happy they were! At bedtime they asked to come inside and had a restful night of sleep indoors.
The Bond Family has been a part of the Lawrence Humane foster community for about 3 years. During that time, they have fostered dogs and cat of all ages. She says "We have had perfect fosters and some who needed extra care. We have loved working with the Humane Society – they have always been there for everything we needed as foster caregivers!"
All of the Bond family's dogs were adopted from the Lawrence Humane Society. There's Cal who is a 13-year-old American foxhound; Tuck, a 4-year-old Chihuahua; and Tracker, a 1-year-old Great Pyrenees. They also have one cat and a bearded dragon.
After a week or so of staying at the Bond home, Victoria's family loaded up Gus and Mabel to meet an possible adopter. The family had made this trip plenty of times with past fosters. Each occasion was sad but they never felt such heart break with the possibility of the animals not coming back home with them. The possible adoption did not end up working out and the Bond's knew it was meant to be. They signed the adoption papers and back home they went! It's what we in the industry call a "Foster Fail" – when the humans end up adopting the animals they originally brought home to foster. Gus and Mabel happily returned to the Bond house, now their forever home! The whole family was thrilled.
Since the adoption back in May, we caught up with Victoria and her family. The pair are doing amazing and she says they have a very happy life. Every morning at 3:30am, Gus, Mabel, and the young pup, Tracker, get up for a quick bathroom break. At 6am, the whole family eats breakfast and heads off to work or daycare. Gus and Mabel spend their days lounging around on the couch, living the good life. When the family returns home, they play outside, watch TV and snuggle with the family. The family ensures the pair don't endure too much activity (walking up stairs, going for super long walks, etc.) since both have relatively painful arthritis. Also, Victoria reports Gus has been shedding like crazy because of the summer months so he gets his hair brushed most evenings. Silly Mabel gets jealous from all the attention so she asks to have her hair brushed too.
The family decided it was best to stop fostering for now. Five dogs, three children, a cat, and a bearded dragon is plenty to take care of, even in the Bond house!
A huge thank you to our wonderful community and to the Bond Family for giving Gus and Mabel a home full of love and care!
Would you consider becoming a loyal friend? Your monthly contribution will provide animals like Gus and Mabel with a chance at a home, health, and the happiness they deserve!