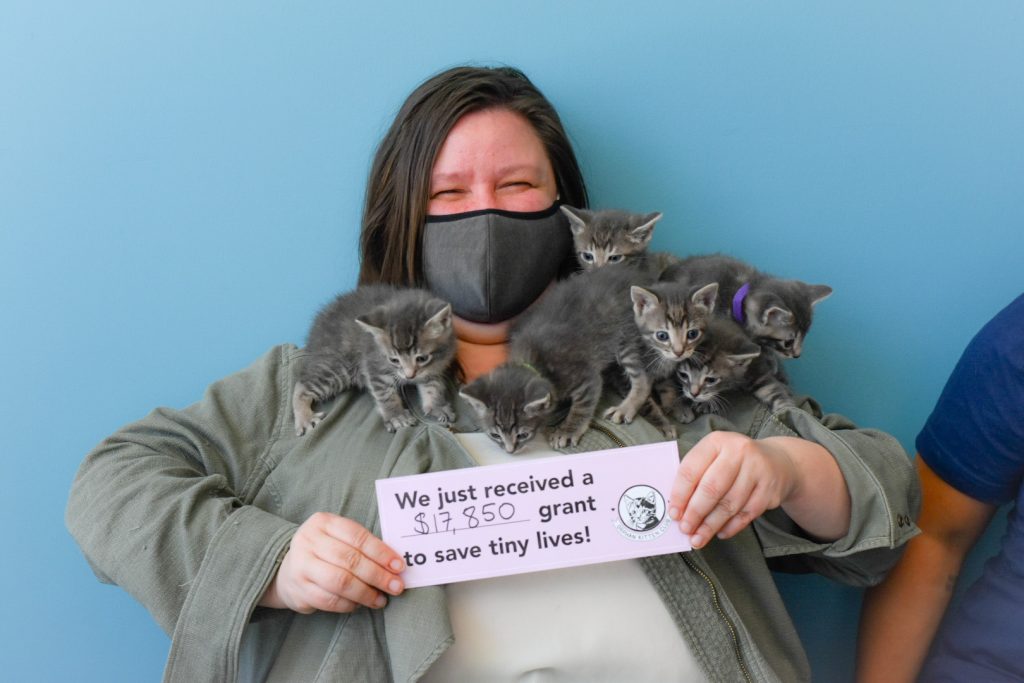 Orphan Kitten Club's (OKC) mission is to end the killing of neonatal kittens and give every kitten a chance at a full and happy life. OKC seeks to build a safer world for neonatal kittens through their state-of-the-art kitten nursery, ending the cycle of endless reproduction through their Full Circle TNR program, and providing the world's first grant program targeted at saving neonatal kittens.
This grant will allow the Lawrence Humane Society to do the following:
Save more kittens' lives by purchasing two incubators, as well as critical kitten care supplies to create a minimum of 20 kitten supply kits for LHS fosters of neonatal and ill kittens
Access additional kitten life-saving training for staff and fosters
Help fund a position that will help build a dedicated kitten fostering program.


According to Hannah Shaw, also known as the Kitten Lady, and founder of Orphan Kitten Club, kittens 0-8 weeks old are one of the most at-risk populations for euthanasia in shelters across the United States. Kittens are resource-intensive and time-intensive, requiring specialized knowledge and skills, and don't do well in a shelter setting due to their under-developed immune systems.
In 2020, Lawrence Humane took in approximately 600 kittens aged 0-8 weeks. Of those, approximately 220 kittens were taken in as transfers from rural and low-capacity shelters, giving these kittens a better chance of survival and allowing our neighboring communities to extend their life-saving capacity.
Lawrence Humane is exceedingly fortunate to have an extensive team of committed fosters and we look forward to working with them to build out a dedicated kitten fostering program that will allow us to together expand on our ability to save the tiniest and most fragile of kittens.
Lawrence Humane is also extraordinarily grateful to Orphan Kitten Club for their impactful investment! We appreciate their support, believing in what we're trying to accomplish, and being such generous partners in the effort to save neonatal kittens. Trusted partnerships exponentially increase an organization's capacity to do good and we are thankful to Orphan Kitten Club for theirs!