As Douglas County's one and only animal shelter, we provide a safe and humane place for lost, homeless, and displaced pets. Not only do we care for the animals that don't have anywhere else to go, we also provide community support services to nearly 2,000 owned pets annually. These services include subsidized vet care, temporary crisis pet boarding, distributing food and supplies through our pet pantry, and providing monthly low-cost vaccine clinics for pet owners.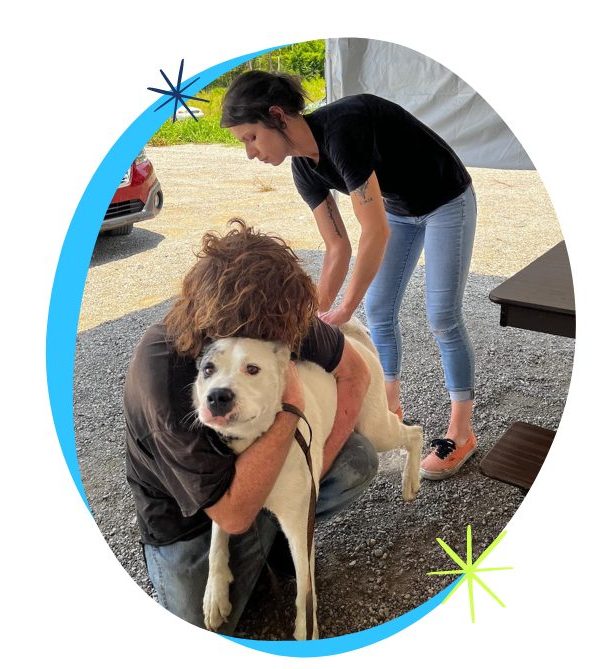 Lawrence Humane staff provides support to North Lawrence camp
Over the last several months, Lawrence Humane staff have been offering pet food, supplies, and support for pets and pet owners at the North Lawrence camp for people experiencing houselessness. In addition to providing pet food and supplies, they have also been able to provide necessary preventative vaccinations to 15 animals.
On June 14th, 2023, they transported 4 dogs from the camp to Lawrence Humane for spay/neuter surgeries, after which, the dogs will be transported back to their owners at the camp. All of the care provided is 100% subsidized through our Crisis Pet Retention Fund, which is funded exclusively by grants and donations.
Pets provide a source of unconditional love and companionship. They can provide a sense of purpose and enable positive social interactions. And lest anyone suggest that pet owners experiencing houselessness ought to surrender their pets because they can't possibly care for them, let us assure you that from what we have personally witnessed and what all national data reports, pet owners experiencing houselessness prioritize the welfare of their pets, putting the pets' needs above their own.
Lawrence Humane is committed to supporting Douglas County's pets and pet owners – housed and unhoused – and will continue to work to ensure that all pets in our community are healthy and safe from preventable diseases, and all pet owners have the resources they need to continue to care for their beloved companions.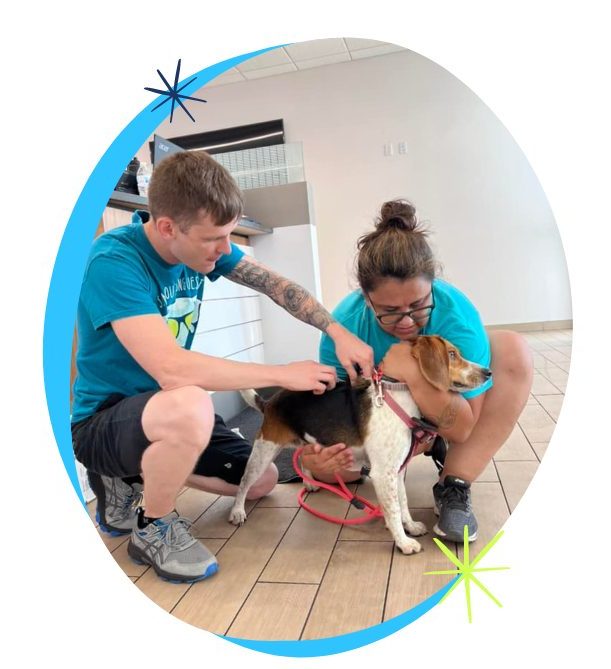 Lawrence Humane staff hosts microchip clinic with Dale Willey Honda
On Saturday, June 24th, Dale Willey Honda and Lawrence Humane partnered together to host a drive-thru microchip clinic at the Honda Dealership in Lawrence. During the event, 59 animals were microchipped for free thanks to Dale Willey subsidizing the cost. Dealership staff also provided hamburgers, hot dogs, chips, cookies to pet owners as they waited their turn in line. Timing couldn't have been better for this event as folks begin to celebrate the 4th of July, a day when more pets become lost than any other day of the year. A microchipped dog is twice as likely to be returned to its owner, and a cat is 20 times more likely! In addition to sponsoring the microchip clinic, Dale Willey covered the cost of any adoptions from Lawrence Humane on Saturday. The Lawrence Humane staff found 41 animals loving homes and our adoption board was very full – a sight we always love to see!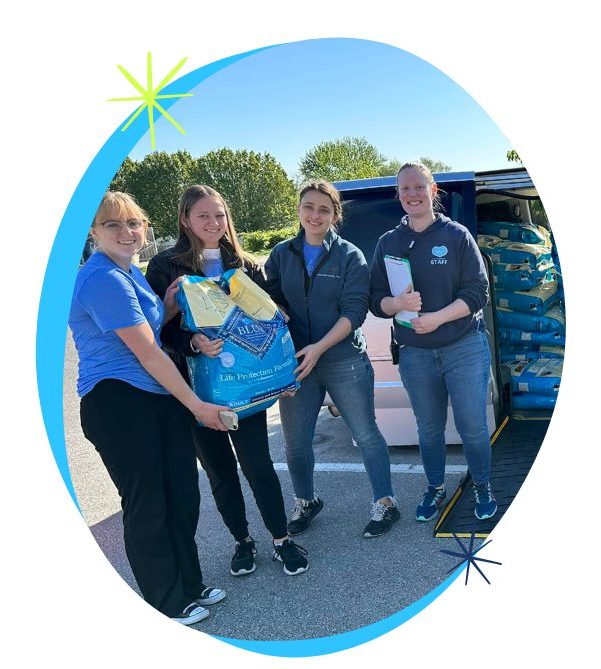 Lawrence Humane pet pantry gives out 8,570 lbs of dog food
The Lawrence Humane pet pantry received an amazingly generous donation of dog food from the Walmart Distribution Center in Topeka. So generous, in fact, that it took us two trips to get it all back to Lawrence in our van!
On April 23rd, we hosted a mass dog food distribution event, trying to help ease the burden of the rising cost of dog food for pet owners in need. We never want anyone to have to choose between feeding themselves or their pets, or feel like they have to surrender their pets due to challenges in obtaining pet food.
In total, we gave out 8,570 lbs of dog food to 68 families to help feed 175 dogs! It was an incredible day and we are so thrilled to have been able to offer this relief and support to so many loving dog owners!