Tom's birthday was coming up and to celebrate, he decided to take a road trip with his nephew and adopted dog, Poppy. The route was determined by retracing the steps Poppy made while she was in the hands of different animal shelters. Starting in Colorado where Poppy (then Speckles) was adopted, they drove through Kansas and made stops in Hays and Lawrence. Their final destination was Tom's hometown in Iowa to visit family. With no strict timeline, they meandered through Kansas and enjoyed the shelter stops to talk with staff and give an update on an animal that once was in their care. 
During her time living at a few different shelters, Poppy was known as Speckles. At the beginning of 2017, she spent 3 months at Caring Hands in Hays before being transferred to the Lawrence Humane Society, where she also spent 3 months. She had some behavior issues toward other dogs but we had high hopes for her as a hunting dog or placing her in a single-dog home where someone could work through some of these quirks. After all, we had no idea what Speckles's life was like before she came to us. With a few months under our belt and doing our best to find her a great match, we reached out to other resources who could help Speckles find her forever home. She was sent to a rescue in Colorado where fate would bring her and Tom together.
Tom met Speckles and knew right away she was the dog for him. After signing the adoption papers, he headed out of the dog rescue thinking about what her new name could be. A new and love-filled life deserved a new name! Right across the street from the dog rescue was a cute little restaurant called Poppy's Pizza. Ding, ding, ding! Poppy was the perfect name for this pointer pup.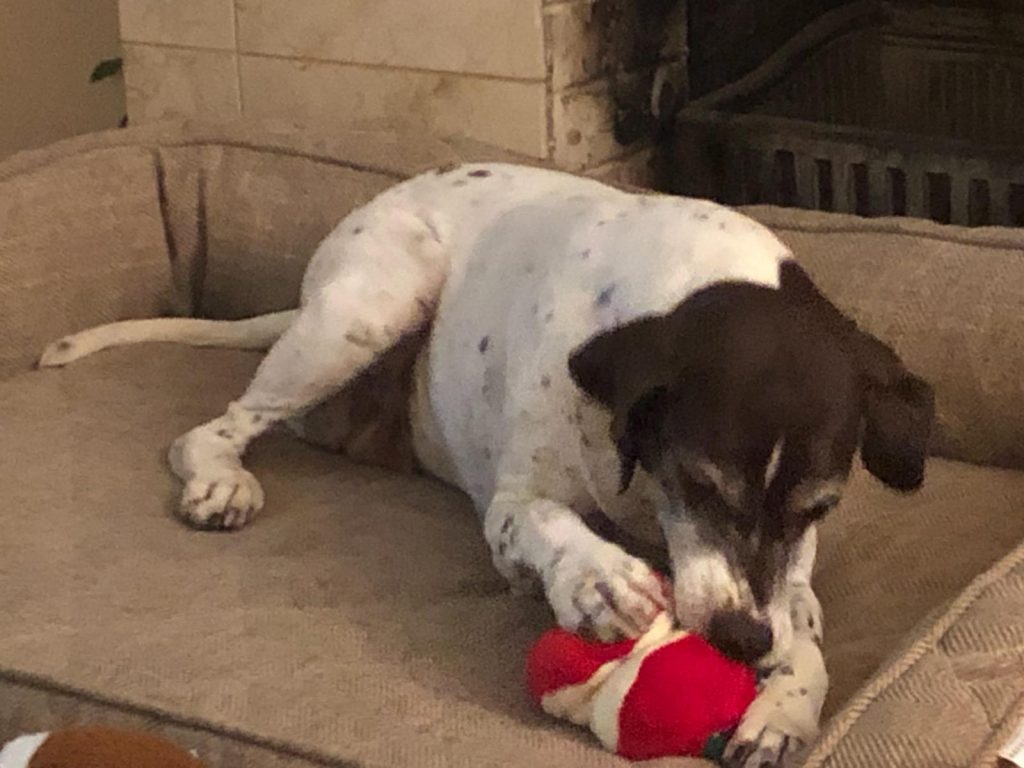 These days, Tom and Poppy live a very active life. Tom has had a life-long passion for running but in an effort to be gentle on his joints, he recently switched to biking instead. The pair cycle almost daily and Poppy happily trots alongside him in front of the bike. She's 13 years old now and still just as active as the day he got her! Although Tom admits she's definitely still quirky in some ways, she is super sweet, lovey, and he couldn't imagine a better companion than Poppy.