What should you get for all the beloved animal family members in your life? Let our local experts help! We've curated the best gifts from all the pet-related stores in town to help you find the purrfect presents!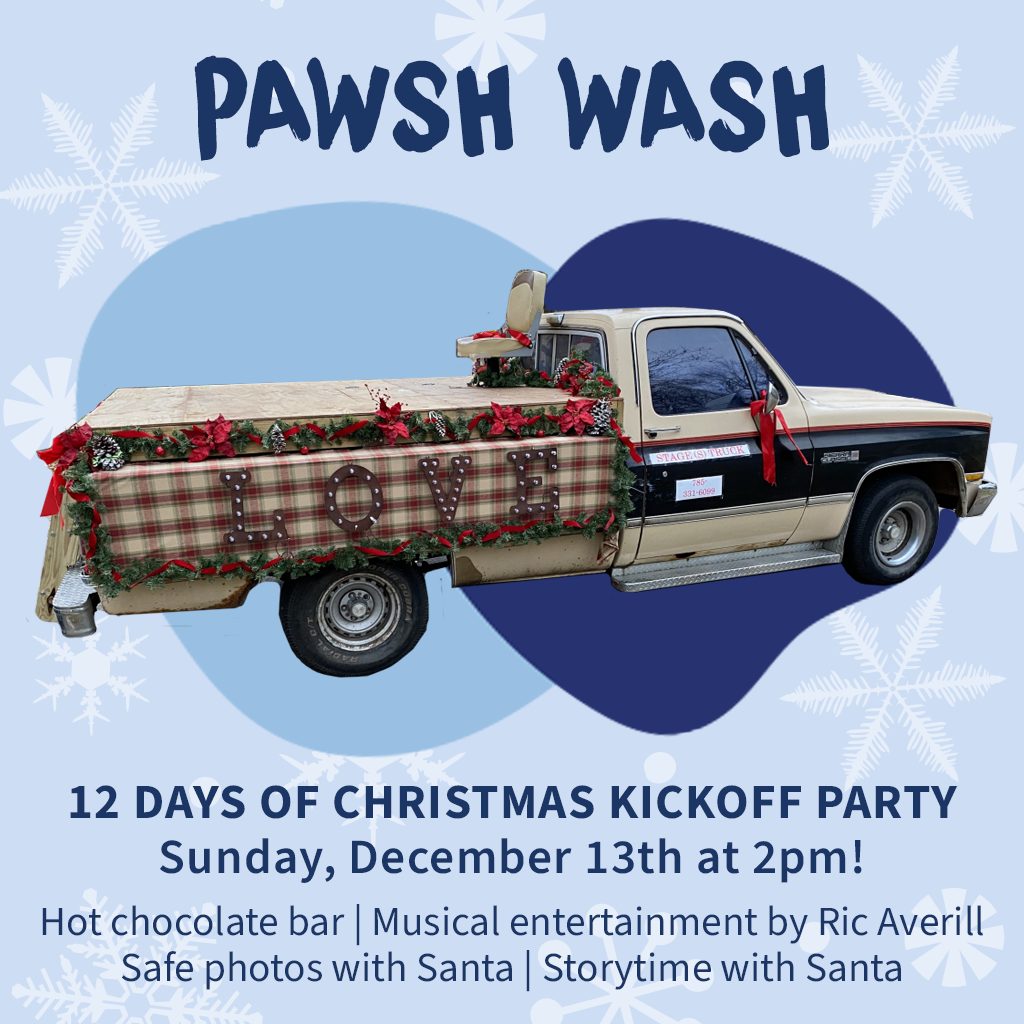 You won't want to miss Pawsh Wash's 12 Days of Christmas kickoff party THIS WEEKEND on Sunday, December 12th at 2pm! Grab a pal, mask up, and bring your canines along for some holiday fun! This FREE socially distanced party will be in the parking lot on the corner of 15th and Wakarusa. There will be a hot chocolate bar, safe photos with Santa, and musical entertainment by Ric Averill. This event is brought to you by Pawsh Wash and the Lawrence Arts Center! Read more about this fundraising event for the Lawrence Arts Center by clicking here! 
Pawsh Wash offers the following services and products
Nail trims
Self washes for your pet
Plenty of availability for grooming appointments
Unique pet gifts
Lots of yummy treats & snacks!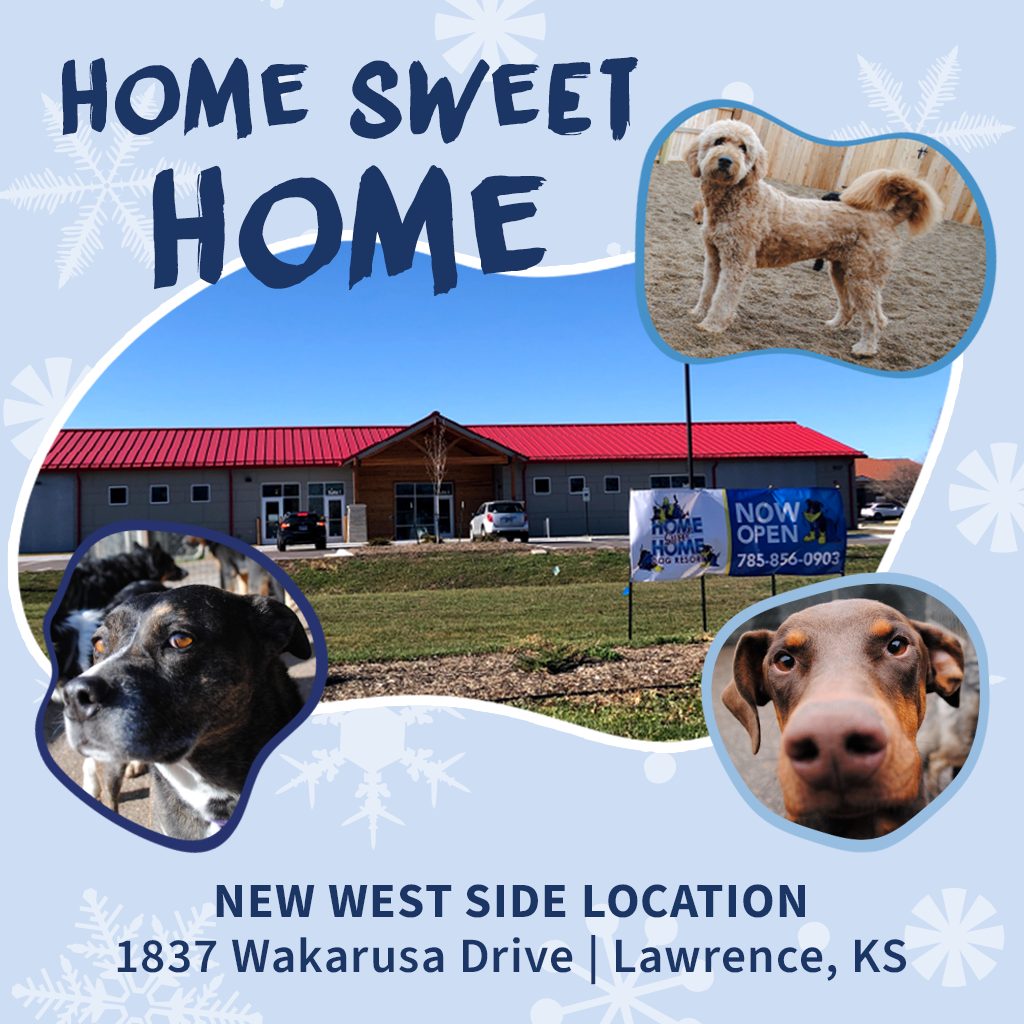 Spoil your pup with a day of fun and socialization at doggie daycare this holiday season! Home Sweet Home offers doggie daycare and boarding at two locations – one on the east and west sides of town! Did you know the Lawrence Humane Society has a special partnership where they allow our shelter pups to come romp around and enjoy time out of the kennel? They also snag amazing photos of our adoptable animals and help promote them on their Facebook. Our friends at HSH are the best!  
Original location: 2140 Haskell Ave
West location: 1837 Wakarusa Drive
Read more about the exciting features at Home Sweet Home West on their website!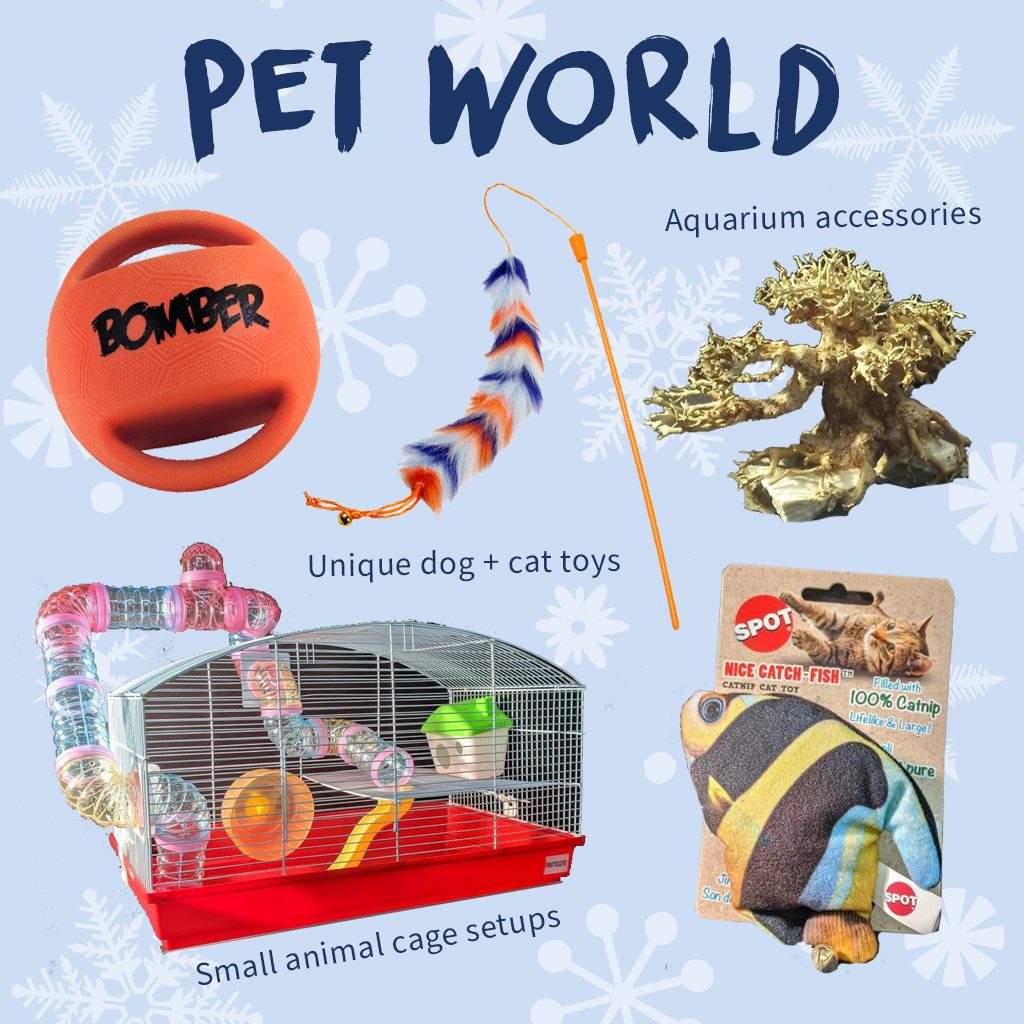 Pet World offers a wide variety of adoptable birds, small mammals, reptiles, amphibians, arachnids, salt and fresh water fish, exotic animal rehoming, plus everything you need for any kind of pet you own. No matter what kind of animal you have, Pet World has the perfect gift for your pet this holiday season! Check out a few of their specials below:
MAGIC PET STOCKINGS
Buy a magic stockings for your pet (most are under $3) and "Santa" will take 20% off all the wearables, toys and treats you can stuff inside! Employees will even personalize your stocking with your pet's name for free while you wait! A limited amount of giant, three foot stockings are available for $10. Stuff all kinds of fun Christmas gifts inside to get 20% off whatever fits!
*See a Pet World Santa specialist for details. Regular pet food and cage bedding excluded because Santa would never put anything that boring in a stocking!*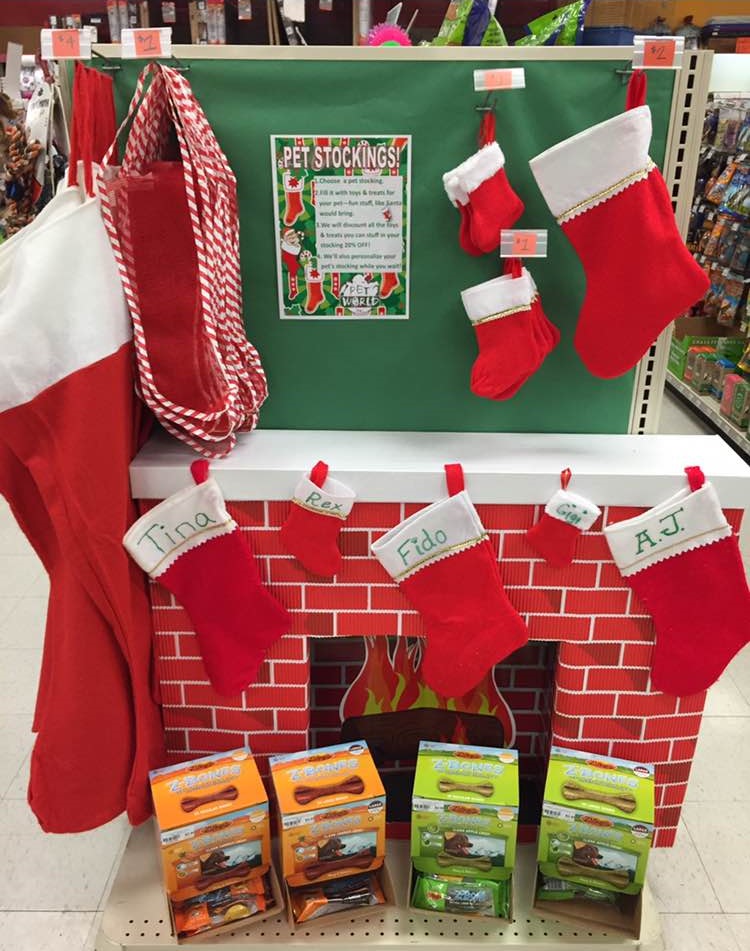 HOLIDAY BONUS BUCKS 
For December, additional Holiday Bonus Bucks are available (on top of regular Bonus Bucks!) to the tune of 10% back on the purchase of qualified* kits and complete set-ups for your pets! December is the time to expand your pet passion!
*A qualified kit is an enclosure (cage, tank, etc.) plus food, substrate (bedding, gravel) and all the necessary equipment and supplies for a complete setup. Pet World has pre-made kits and is happy to help you make your own customized setups.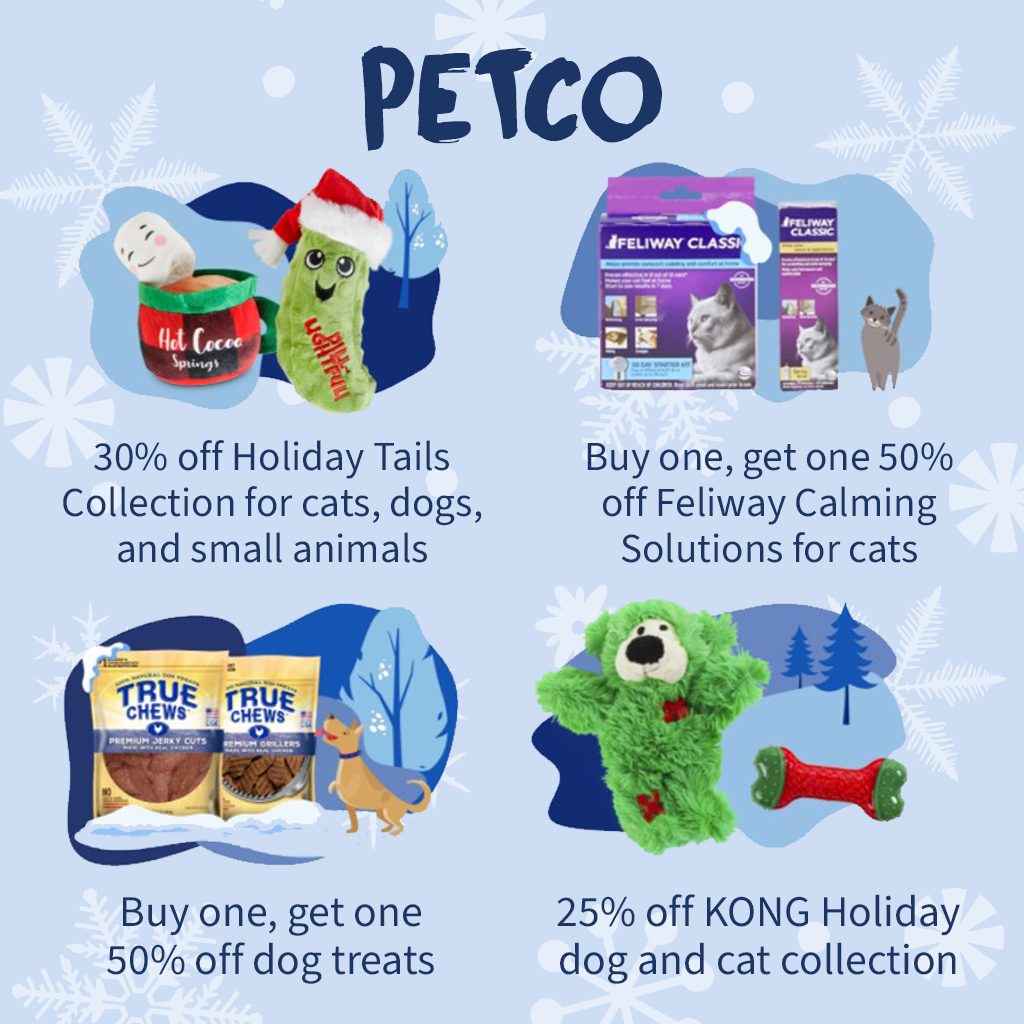 PetCo has some great in-store and online deals! Head in to the Topeka or Lawrence locations and while you're there, check out our adoptable kitties!
30% off Holiday Tails collection for cats, dogs, and small animals
BOGO Feliway Calming Solutions for cats
BOGO dog treats including
25% off KONG holiday dog and cat collection
Did you know we have a brand new online marketplace? We have been working on expanding our retail options at the shelter and have a myriad of great gifts for humans and animals alike! We will continually add new merch so make sure you check back regularly. ALL proceeds benefit our lifesaving mission!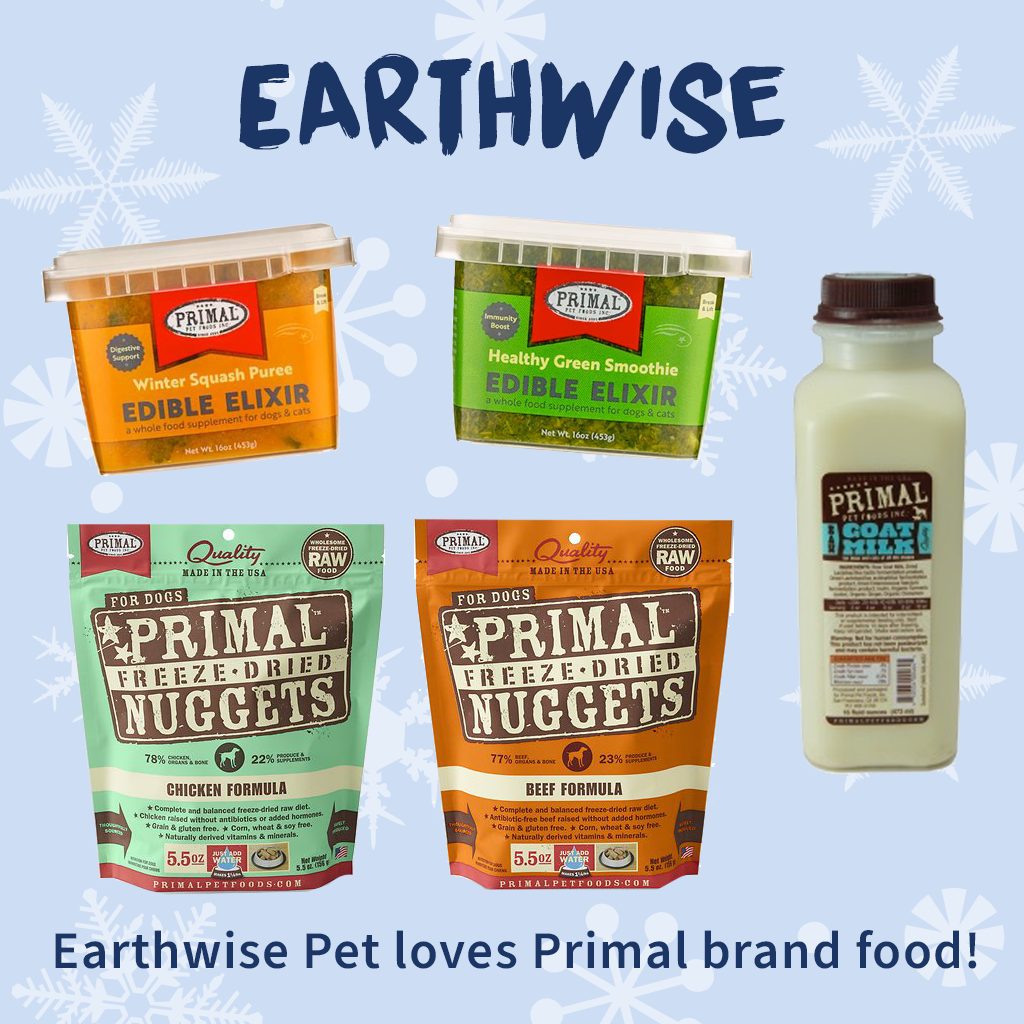 Earthwise Pet Supply specializes in natural pet foods and raw foods! They have recently moved to a new location at 4931 W 6th Street, next to the 6th & Wakarusa Dillon's. One of their favorite brands of natural dog foods is Primal brand. Got a picky eater? The options listed above are the perfect alternative to kibble! 
Primal edible elixirs are aromatic whole-food toppers with specialized, functional ingredients—targeted towards digestion, immunity, or joint health! The Healthy Green Smoothie is packed full of power greens, organic chia seeds, organic mushrooms, coconut oil, and sardine oil for a boost to your pet's immunity. Suitable for dogs or cats. The winter squash puree would be a delicious addition to a holiday meal with its gut-nourishing butternut squash, probiotic-packed apple cider vinegar, and organic cinnamon, turmeric, and ginger.
Primal Goat Milk is sourced from humanely raised goats and is considered to be the "universal milk" because it can be digested easily by any species. Add a boost of hydration (plus probiotics!) to your dog or cat's bowl to support their digestion!
Primal's freeze-dried nuggets are shelf-stable and ready to serve in minutes – just portion, shred, and rehydrate with warm water, bone broth, or raw goat milk!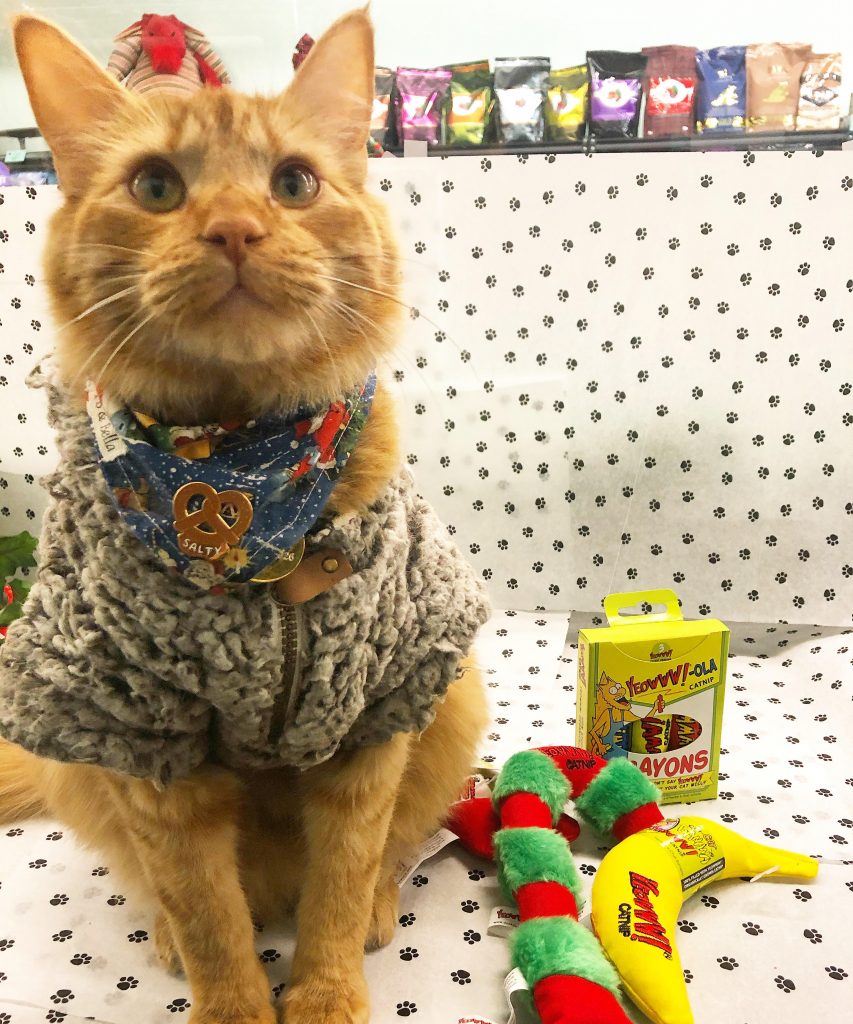 Pretzel says: "My favorite toys to take off the shelf are the Yeowww catnip toys! My favorite one is the banana but I am loving the new holidays toys. They make me go Yeooow!"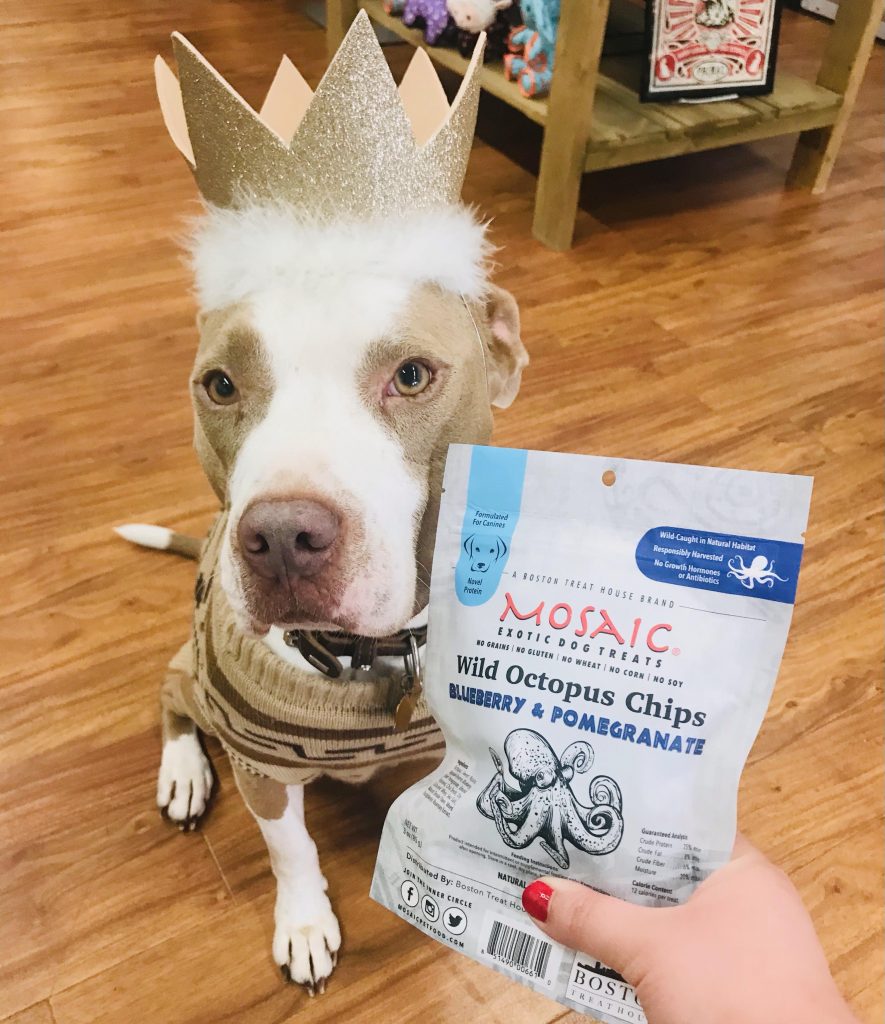 Sirius loves the Mosaic Exotic Dog treats! They are made with unique proteins like octopus and ostrich and are great for dogs with allergies!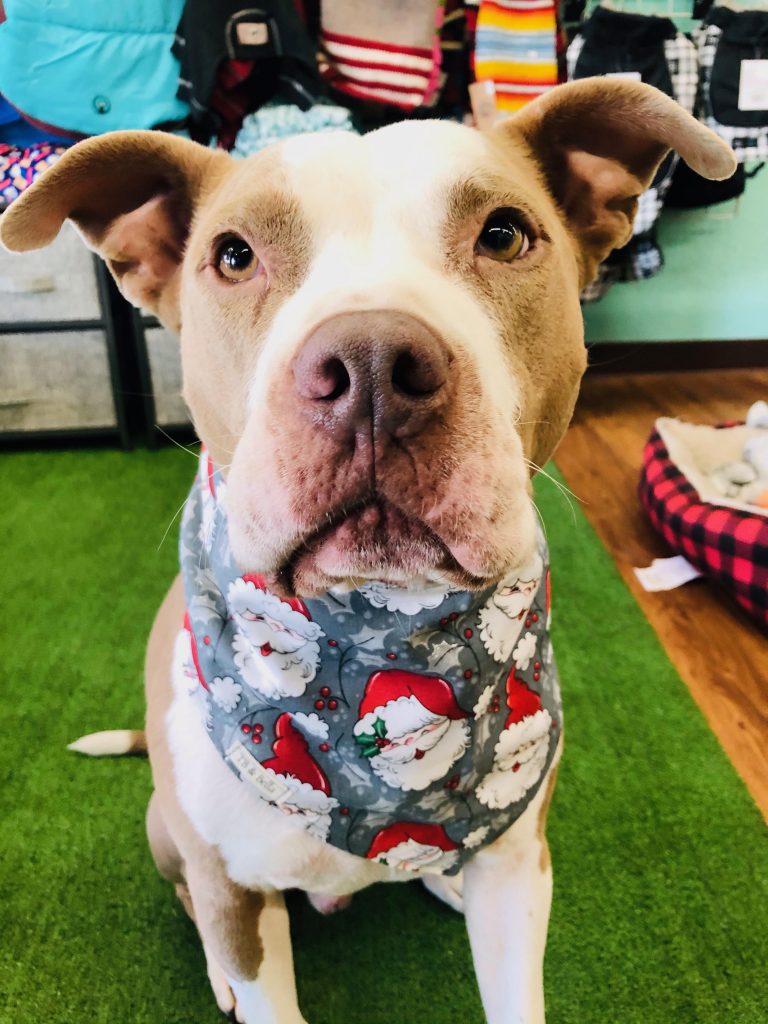 Our locally handmade bandanas are a favorite at Lucky Dog! Sirius is ready to be the store greeter in his bandana uniform.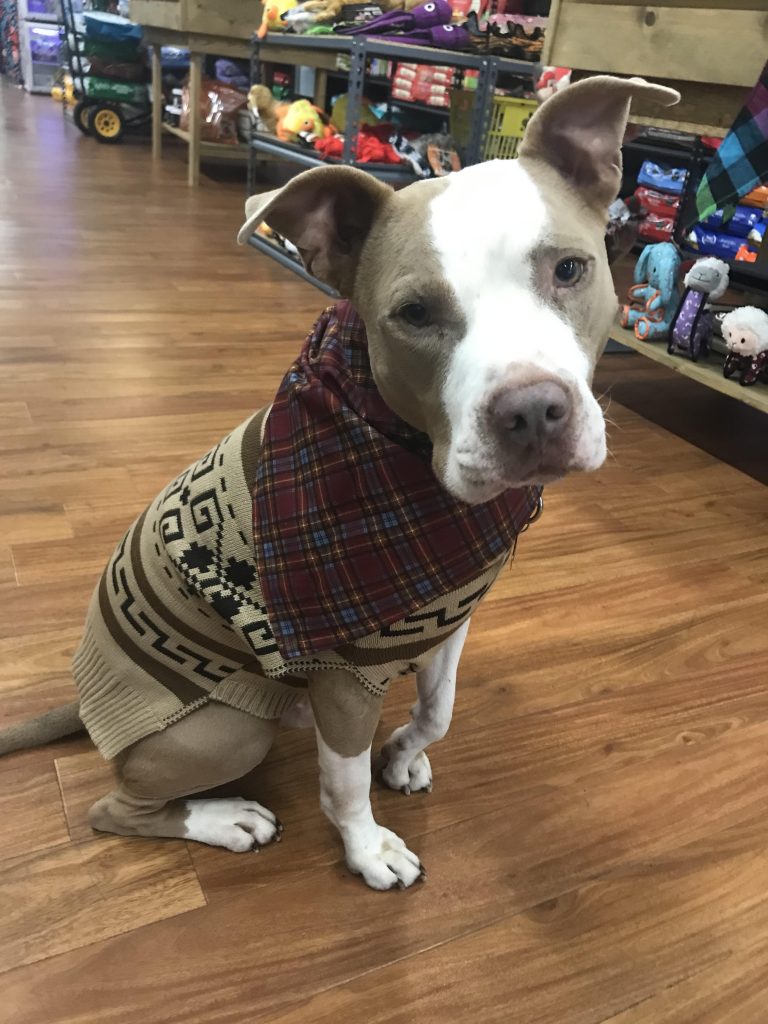 Sirius really loves a warm sweater during this chilly winter months. Right now, the Big Lebowski sweater is his go-to.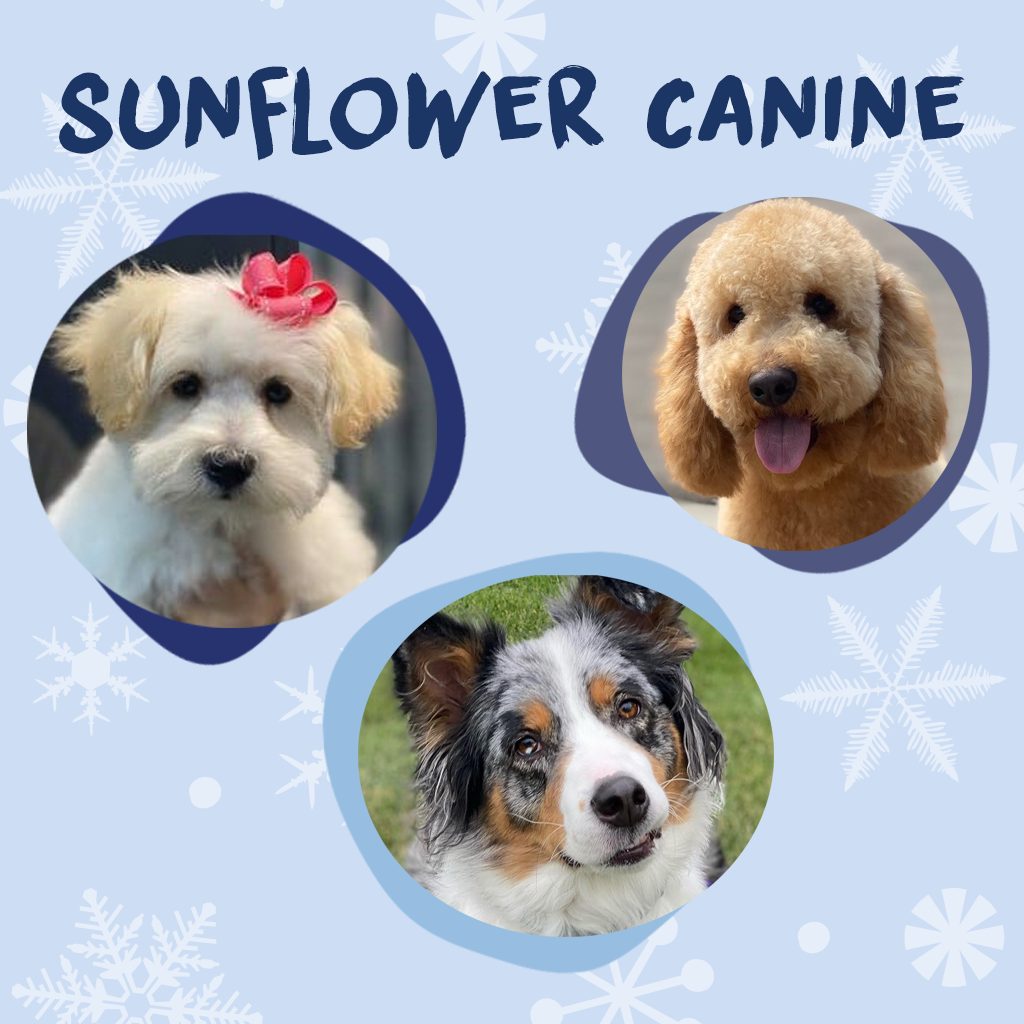 Give the gift of a spa day for your dog at Sunflower Canine! All their groomings include a therapeutic massage bath, deep-coat conditioning to prevent dry skin, and nose-to-tail attention leaving your pup feeling pampered and refreshed. 
The gift of day school and daycare with their canine behavior specialists and professional trainers are fun and educational! Your dog gets playtime with other dogs and individualized training sessions throughout the day. Packages and gift certificates are available.