When staff first received the tiny note addressed to the shelter, it seemed like any other donation. Sometimes people mail their gifts to us via snail mail, but this gift was different. Inside was a $5 Walmart gift card and evidence of one young lady's abundant love for animals.
So what was in the letter?!
The return address revealed this letter came all the way from Pennsylvania. In the tiny envelope, we opened it to reveal a letter written to us by a 14-year-old named Avery, who has started her own movement to better the lives of pets all over the country. From the goodness of her heart, she gave what she could to ensure the lives of animals all across the country are better. 
You can see the letter we received below.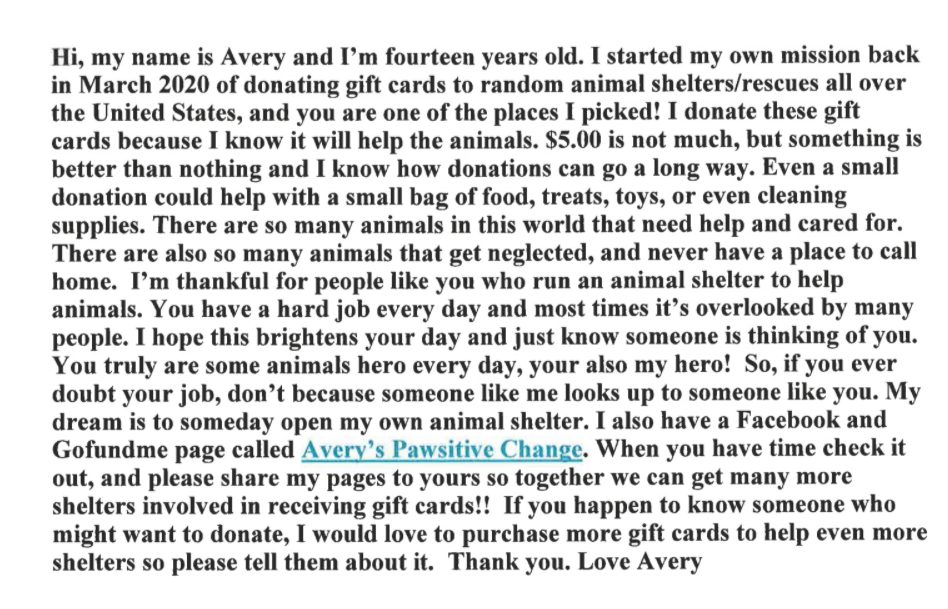 This random act of kindness blew us away. This young girl's donation and efforts are truly inspiring. 
According to her Facebook page, Avery's Pawsitive Change, Avery started the movement back in March 2020 to spread cheer to animal shelters across the nation. Shortly after that time, she faced a personal diagnosis of a cancerous tumor, but throughout all of it, she continued her efforts on behalf of animal shelters.  
You can donate to Avery's efforts on her GoFundMe and follow her journey on her Facebook page at "Avery's Pawsitive Change"
We can't wait to see your animal shelter, Avery. Lawrence Humane Society is rooting for you and we are so grateful for this amazing gesture. 
Thank you from the bottom of our hearts.
– Lawrence Humane Society's staff, volunteers and shelter pets