Meet John Hanley - Lawrence Humane's new board chair!
John lives in Lawrence with his wife of 17 years, Amy Hanley, who serves as a district court judge for Douglas County and his three cats, which we will meet in just a moment! John spends his days working as the chief marketing officer for Equity Bank, a 50-location bank based in Kansas City with headquarters in the Wichita area. Over the last eight years serving as Equity Bank's Senior Vice President & Senior Marketing Director, John has helped grow the bank and brand from 16 locations to over 50. John enjoys his position in the fast-growing company where he gets to work with a talented team of marketing professionals. His favorite part about his job is that he gets to tell stories, connect with people, and solve problems. He also serves as Chair of the American Bankers Association Marketing Conference. 
Outside of work, John loves to read and write. He collects vinyl records and is a huge fan of the Chicago Cubs and Pearl Jam. He's supported and followed both of these groups all around the country.
Let's get to know John a bit better with a little Q+A! 
1. First things first, let's hear about your pets! 
We have three cats – Sophie is 12 years old and runs our household. Todd is a gregarious orange 10 year old cat who nearly wins every photo contest he enters. Wallace is our newest alum from the Lawrence Humane Society. He's 3 years old and jumps on the desk to be front and center of the computer the second a Zoom meeting starts.
2. Why did you become involved with the Lawrence Humane Society?
In 2012, we adopted a cat from LHS named Hawthorne. We saw him in the playroom and he immediately won our hearts. He was bursting at the seams with personality (yes, they all do, but this one really captivated us!) 
Hawthorne joined our rescue cat, Sophie, and changed our lives. We enjoyed his vibrant charisma for 6 years before he was diagnosed with heart disease and passed away in April 2018 at the young age of 7. It was heartbreaking but I felt inspired to get more involved with the shelter in memory of him. The impact pets can have on people is monumental and I was interested in doing more. 
I joined the board after Hawthorne passed right as groundbreaking for the new building was happening. I have greatly enjoyed serving on the board over the last 4 years and look forward to serving as Lawrence Humane's board chair to help push this organization's mission further.
3. What excites you about the Lawrence Humane Society What areas of improvement would you like to see during your tenure as board chair?
The Lawrence Humane Society has such a huge impact on Douglas County, and serves as a model shelter within the United States for mid-size shelters everywhere. The passion of the Lawrence Humane team is impressive. The difference they make in our community excites me and I'm eager to build on that. 
Moving forward – I would like to see our stunning new shelter building serve as a community center where people feel welcome and continue to serve, assist, and save animals throughout Douglas County and beyond. The development of programs like the Crisis Pet Retention fund is such a crucial aspect of a loving and caring community. It's amazing we are able to help keep so many pets and people together. I look forward to pushing that program forward. I would also like to see our organization partner with more businesses in the area and serve as an educational and environmental resource for pet lovers. 
4. What books are you reading right now? Podcasts? TV shows?
Books – I read mostly contemporary fiction sprinkled with nonfiction. I just finished "The Last Cab Driver" by Lee Durkee and "On Writing" by Stephen King. 
Podcasts – I am loyal to The Tony Kornheiser Show, a daily talk show involving sports and current events.
TV Shows – Currently, I'm enjoying "Mare of Easttown" My all-time favorites are: Mad Men, Scrubs, Newsradio, Breaking Bad, Mr. Robot, and The Wire.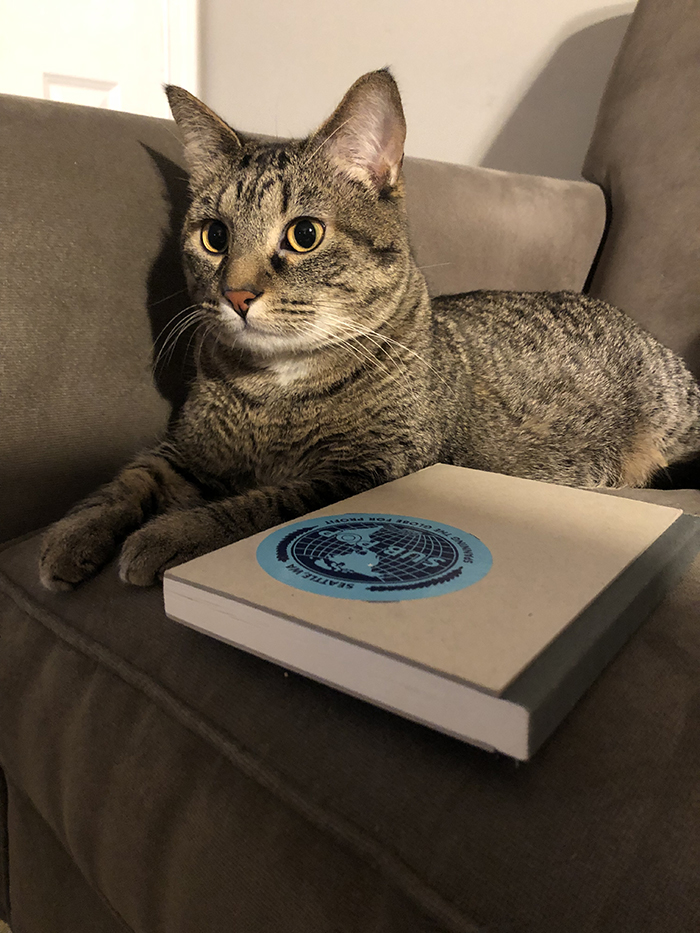 5. Where is your favorite place(s) to travel? 
New York City, London, and Seattle
6. What's one of your favorite memories from the past year?
Last summer, we took a mask-wearing road trip to the Bonneville Salt Flats in Utah. We had a great time!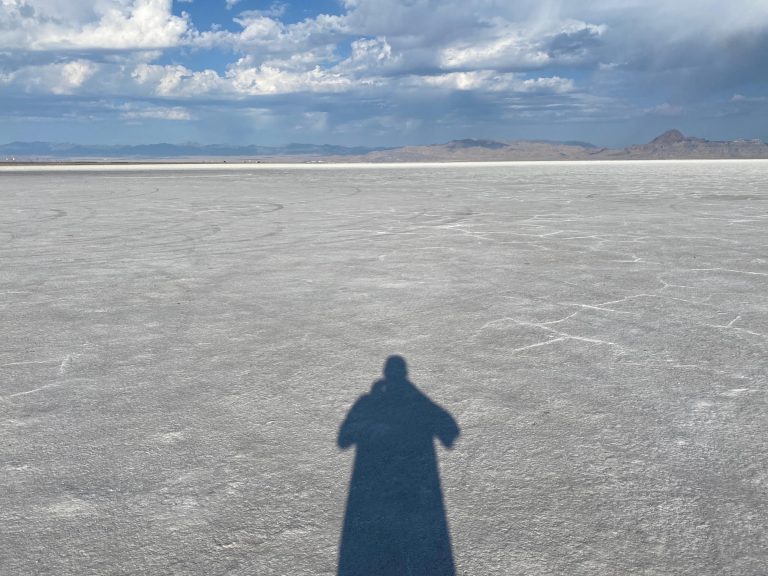 7. What three words would your friends describe you as?
Driven, sarcastic, and trustworthy
8. If you could become an expert in anything, what would it be?
9. What would your perfect meal be? 
There's a lot of dishes I really enjoy. But whatever I choose, I know I'd definitely follow it with pineapple, grapes, or both. 
10. What do you do to turn things around when you're having a bad day? 
Remember my "why" and get out of my head. For me, doing that typically involves running, guitar playing, free writing, and I ALWAYS feel better after playing with Sophie, Todd, and Wallace.
11. What's an accomplishment you're really proud of? 
During the pandemic, I taught myself how to play guitar!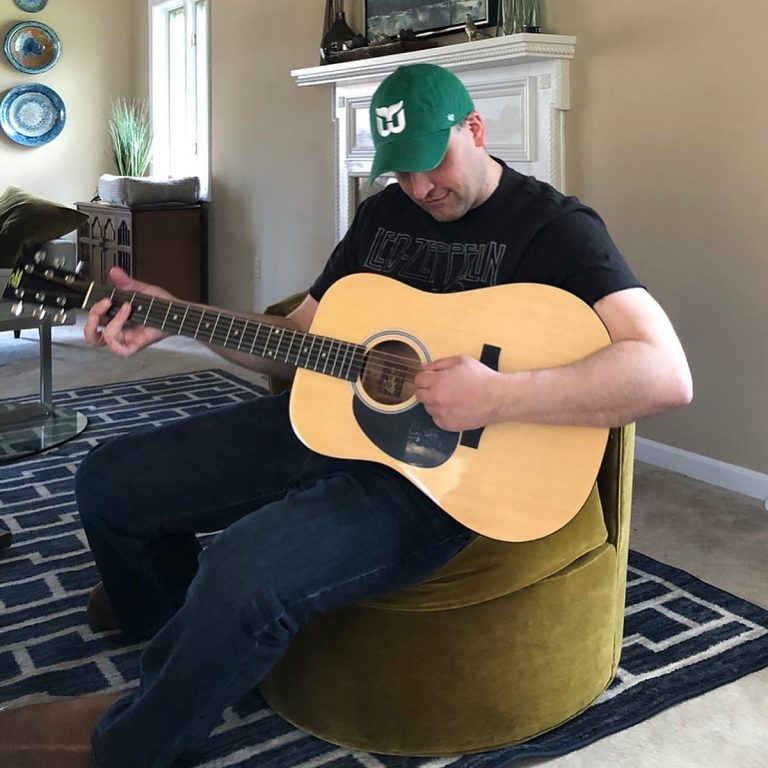 12. What else would you like the Lawrence Humane community to know?
If you're worried that you've shared way too many animal photos with your friends, with LHS, or on social media, you have not. Keep sharing. Your moments with your pets brighten the day of someone and your impact is felt. Your pet's world is you, but their furry face can have a giant impact on connections far and wide. 
We're so thankful to have John leading our organization alongside his feline friends!
Our Board of Directors is comprised of community leaders with expertise in a wide range of areas. The Board meets monthly. It is responsible for taking care of the strategic and financial health of the organization on an ongoing basis. They also play a role in fundraising and community outreach.