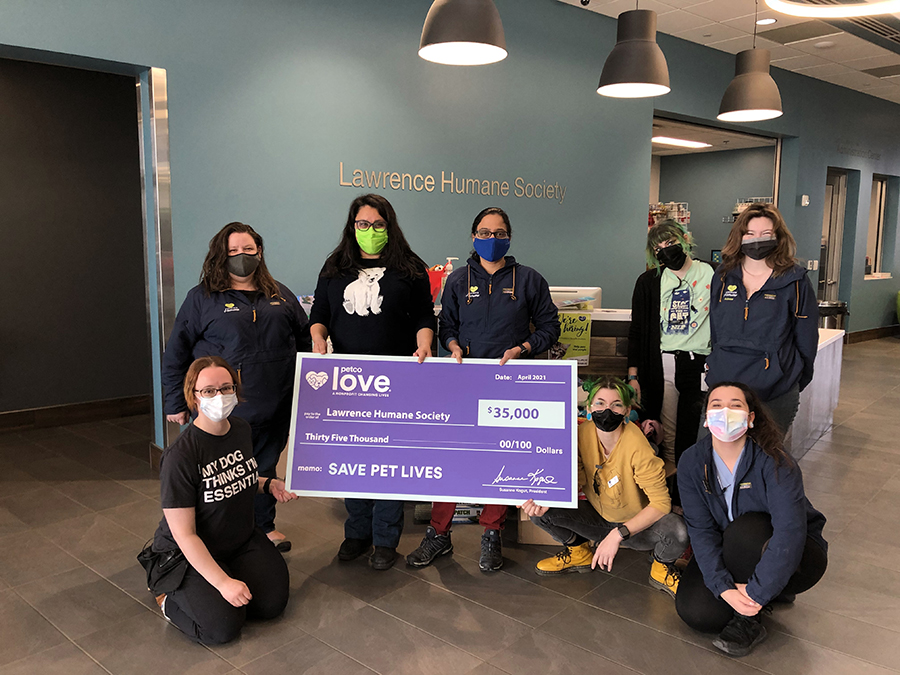 The Lawrence Humane Society announced today a $35,000 grant investment from the newly named, Petco Love, to support their lifesaving work for animals in Douglas County.
Petco Love is a nonprofit leading change for pet nationally by harnessing the power of love to make communities and pet families closer, stronger, and healthier. Since their founding in 1999 as the Petco Foundation, they've empowered organizations with $300 million invested to date in adoption and other lifesaving efforts. And, they've helped find loving homes for more than 6.5 million pets in partnership with Petco and more than 4,000 organizations, like ours, nationwide.
"Petco Love announces an investment in the Lawrence Humane Society and hundreds of other organizations as part of our commitment to create a future in which no pet is unnecessarily euthanized," said Susanne Kogut, President of Petco Love. "Our local investments are only one component. In April, we also launched the first of our national tools to empower all animal lovers to drive lifesaving change right alongside us."
"We are so excited and feel honored to receive this grant from Petco Love," said Shannon Wells, Executive Director of the Lawrence Humane Society. "The $35,000 will make a huge impact for Lawrence Humane's efforts to build out our canine playgroup program, ensuring that our staff has access to the training we need to make this program successful. The grant will also support our incredibly impactful Crisis Pet Retention program, ensuring that we can provide pet food, subsidized veterinary care, and crisis boarding to loving pet owners who are financially struggling. This grant demonstrates Petco Love's support for and belief in the work that we are doing every day, trying to meet the physical and mental health needs of our shelter animals as they look for homes, and also for our community efforts as we work to keep pets and people together."
The Lawrence Humane Society is a nonprofit organization whose mission is to nurture the human-animal bond by providing shelter, care, and advocacy for homeless and vulnerable animals, as well as resources for the pets and people in Douglas County, Kansas, and neighboring communities. The Lawrence Humane Society believes that every pet is deserving of a home and every human is deserving of the love of a pet. Since 1951, the Lawrence Humane Society has sheltered and cared for several thousand animals per year. Animals enter our care as strays, owner surrenders, cruelty confiscations, and transferred in from other shelters. Over the last half decade, Lawrence Humane has been on a journey to overcome the previous barriers that contributed to unnecessarily low live-release rates, including building a new 20,000 square-foot facility designed to decrease disease-spread and stress, establishing an in-house veterinary clinic to ensure prompt care for shelter animals and provide low-cost veterinary care to publicly owned pets, and building capacity within the behavior department to allow for animals with behavioral challenges to get the support they need to be successfully adopted. In 2020, we served 4,783 animals, with 2,991 animals adopted and a 95% live release rate. In 2020, LHS took in 999 transfer animals, allowing shelters from rural southwest and southeast Kansas, Oklahoma, and Texas to save more lives in their communities.