A couple, Bill & Cathy, who live outside of town on several acres of land came by one afternoon with high hopes of finding a new member to add to their farm full of goats and llamas! Bill was quite partial to a 6-year-old australian shepherd named Rosco who had been at the shelter for a while. While Cathy thought Rosco was great, there was another pup who caught her eye! A senior female coonhound named Bleu looked at Cathy with her decade-old eyes and had Cathy falling head over heels for her. Bleu was rather overweight and experiencing some hip issues in her older age. Cathy believed that activity out at the farm would help Bleu feel more comfortable, lose some weight, and help with her hip pain. Rosco, the aussie, needed to work on his manners but that didn't phase Bill one bit! The couple recognized the importance of being patient and working with animals from their years of experience raising goats. After chatting with our adoption counselors, they formulated a plan for transitioning both of these great animals into the #farmlife! 
Cathy desperately wanted to get Bleu out of her kennel for some rest and relaxation so they went home to prepare for her arrival. The next morning was Sunday and the couple could hardly contain their excitement to come pick up Bleu after church. By the end of the service, the whole congregation knew all about their new pup (potentially TWO new pups!) and even prayed for a successful adoption/integration for both of the animals! They came right over to the shelter after church to take Bleu home. As senior dogs tend to do, she settled right in and didn't cause much of a fuss. Once they knew Bleu was comfy, they took the next step in seeing if Rosco would be the good fit they hoped he would! 
Our Executive Director, Shannon, took Rosco out to the farm for a visit and to see how he interacted with all the farm animals before they signed the adoption papers. Bill is very knowledgeable about integrating animals into the farm, including dogs. There were a variety of ways to segregate the space until Rosco learned the farm rules. Rule #1 – their llama is the head honcho! You can see Rosco meeting the llama here and it's off to a good start. After a successful farm visit with Rosco, they knew he would be a great addition!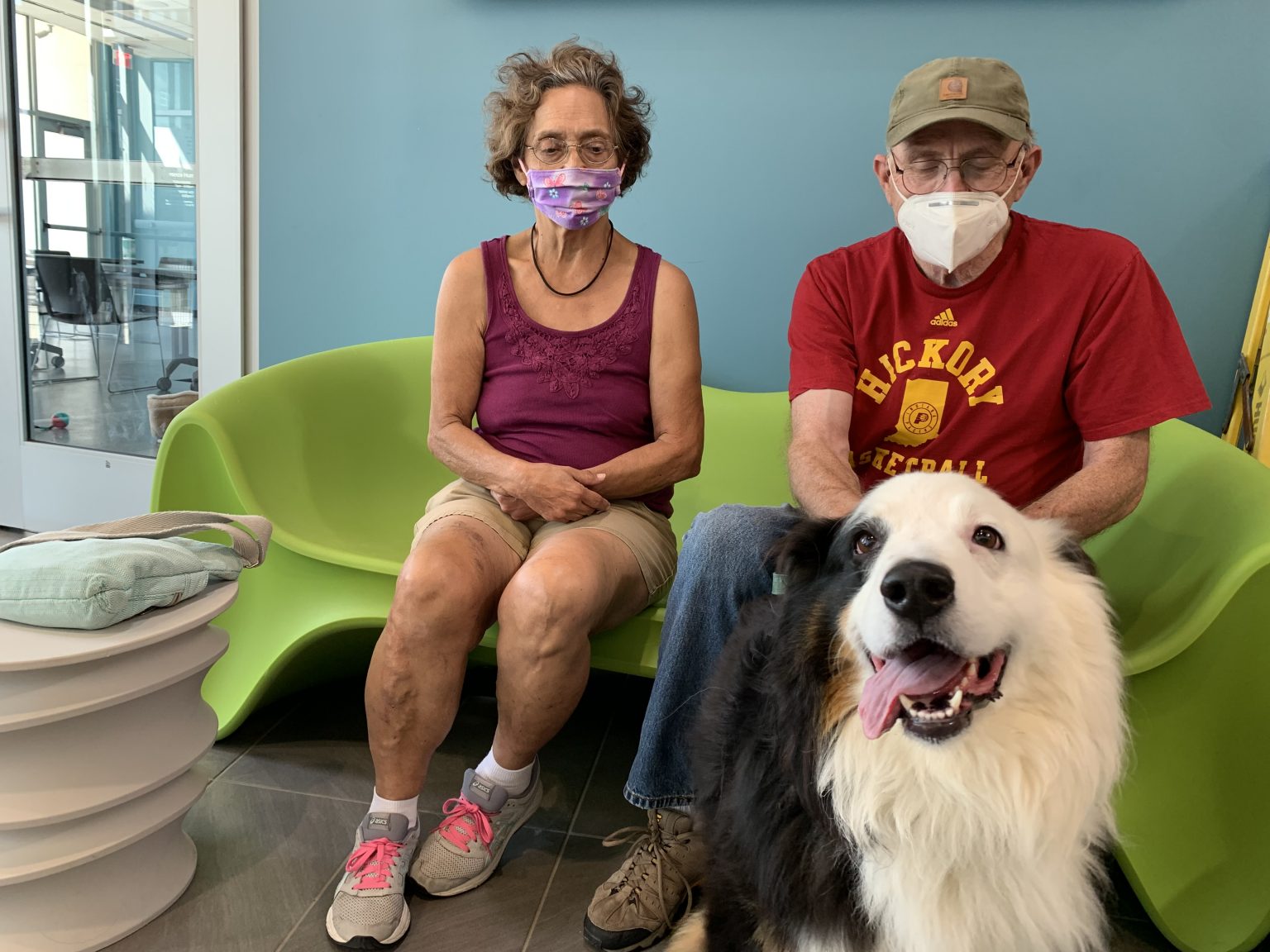 Bill & Cathy continue to provide staff with updates on how Rosco & Bleu are doing. They love exploring their new space and enjoying all the wonderful sniffs on the farm! Bleu is especially interested in the pond and Rosco loves to ride around in the Gator! Bleu settled like that *snaps fingers* and is well accustomed to her new home. In just a little over 2 weeks, she even lost some weight and looks so happy! Rosco is still experiencing a bit of sensory overload but continues to progress every day.
We are so thankful for adopters like Bill & Cathy who meet shelter pets exactly where they are and take the time to let them decompress! We wish Billy, Cathy, Rosco, Bleu, and all the farm animals a very happy life!