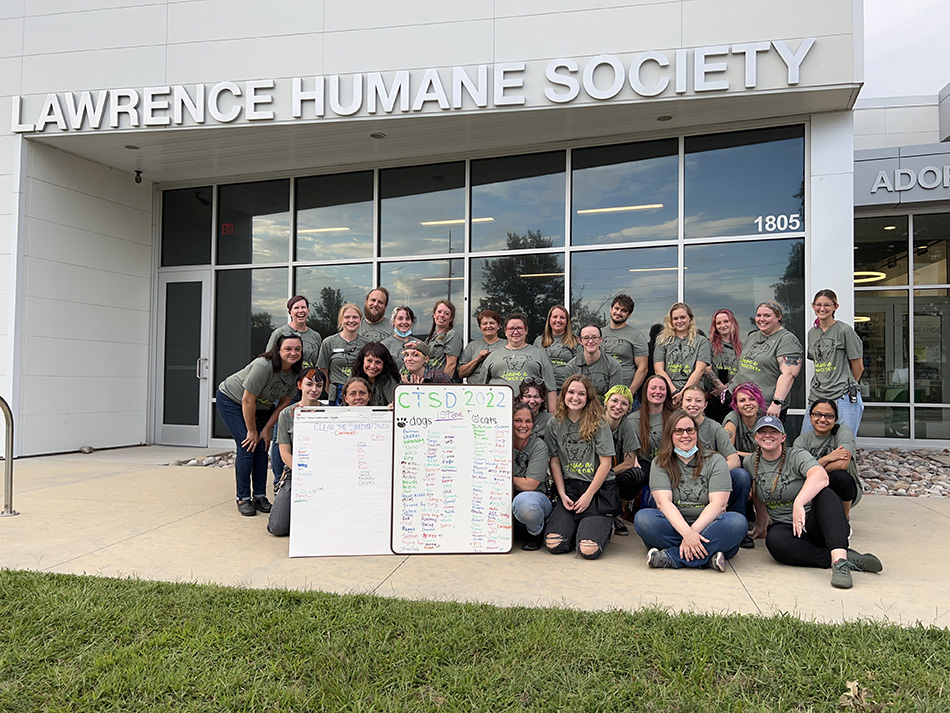 Every summer, animal shelters across the nation participate in a "Clear the Shelter" adoption special. Since 2015, Lawrence Humane has participated in this event. While we don't always completely "clear" the shelter, we always have an amazing life-saving day and this year was no different. On Saturday, August 27th, we found homes for 159 animals! All adoption fees were waived. We understand there are some folks who are concerned that the no-fee adoption day could attract potential pet owners who mistreat animals but there really isn't any evidence to support that. We don't see a spike in animal surrenders, abuse, or neglect after the event. A handful of animals might be returned after the event if it isn't a good fit in their home, but surrender numbers are no higher than usual. 
We are firm believers that income is not an indicator of how much someone can love a pet. Often, we see people put their pets' welfare before themselves. For example, we've seen pet owners who feed their pets while they go hungry which is why our Crisis Pet Retention program is so important. We've seen time and time again how much people do care for their pets and folks just need a helping hand sometimes. We hope that anyone who is concerned about the waived fee will just rest a little easier knowing that's not something that we see. 
A few weeks prior to the event, we rely on our foster community to house the increase in animals we transfer in from rural communities and smaller shelters who might not participate in this nationwide event. We transfer in puppies, kittens, and really awesome dogs of all sizes and ages. There is absolutely nothing better than fostering an animal prior to Clear the Shelter! A Clear the Shelter foster typically cares for the animal for about 2-ish weeks and then brings them to the shelter at a specified time throughout the day. As animals get adopted, we move animals up to the adoption floor so there's always a variety of animals available throughout the day! Every animal is neutered/spayed, microchipped, vaccinated, and ready to go. Our adoption counselors have a conversation with CTS attendees and help folks find a great match for their lifestyle. It is truly a delightful day to be part of!
Take a look at all the wonderful moments from Clear the Shelter Day 2022: