Chloe, a pregnant Yorkie, came to Lawrence Humane from a breeder. She lived in a cage where she lost a lot of her hair, suffered from a lack of contact with humans, and weighed only 4.5 pounds (almost 3 pounds lighter than the average Yorkie). Upon arrival to the shelter, she was immediately sent to a foster to have her three puppies. Unfortunately, after the puppies had been adopted, no one was interested in Chloe. 
There is where Carolyn Bloom came into the picture. Carolyn swooped in to foster Chloe and hoped to help her regain some trust. With Carolyn, Chole had to wear a diaper since she wasn't housebroken and Carolyn even made her a coat from a ski hat to make her more comfortable. Carolyn had a friend who was interested in Chloe but the friend felt Chloe's needs were more than she could handle. This is when Carolyn knew that enough was enough for poor Chloe and decided to make her a permanent part of the family!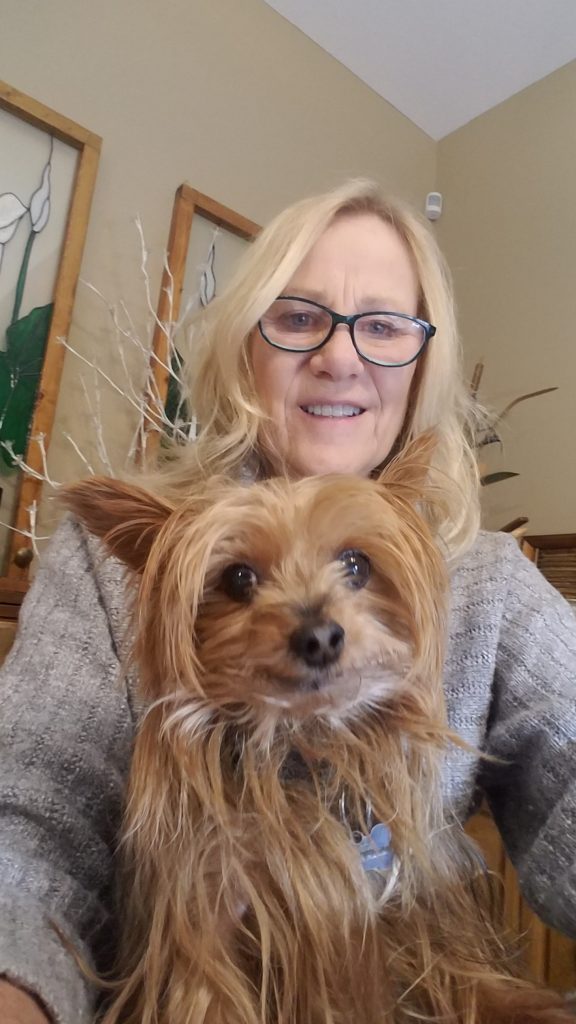 Chloe is currently living her best life with Carolyn and they are best friends. It took a long time but Chloe no longer has to scratch herself on everything due to discomfort and is no longer scared of every noise. She has two brothers, named Lennie and Buddy, and loves them very much as well as her own comfy bed. She even has a special pillow on the couch just for her. She's gained weight and has grown back an amazing coat of hair. Her favorite snack by far is popcorn and will fend off anyone who gets in the way of her delicious kernels. She loves to take car rides with her brothers. She still has some work to do, but a lot of her shut-down tendencies are going away after being in a loving and safe home!