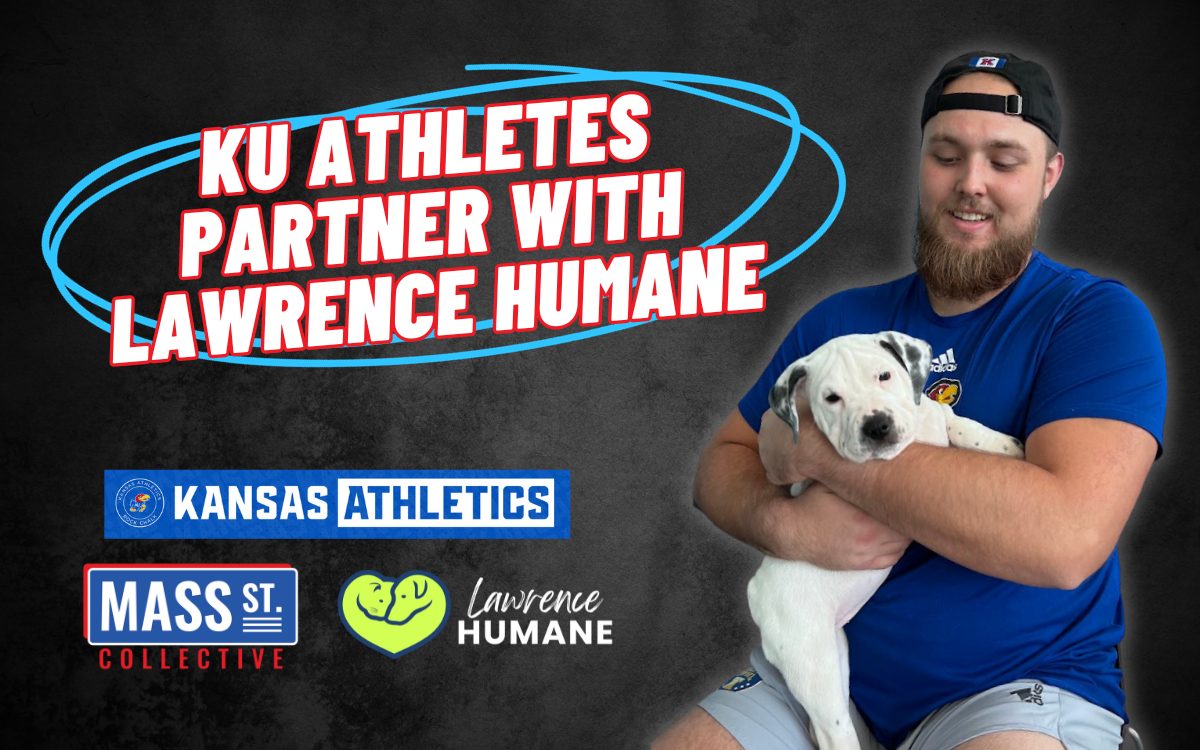 Over the past few weeks, we have been busy hangin' with KU college students, who just so happen to represent your Kansas Jayhawks on the field and court! We had the pleasure of hosting KU football players to volunteer at Lawrence Humane – teaching them about what our organization does for the community, how to make enrichment for the animals, and to help with a few special projects that have been on our to-do list.
In the midst of getting to know many players from the football team, we also received a call from the KU Athletics department asking if Lawrence Humane would be interested in participating in the video reveal of the 2023-2024 KU Men's Basketball conference schedule. How could we possibly say "no" to bringing 14 puppies to the KU locker room in Allen Fieldhouse?!
And last but certainly not least, we were able to surprise guests at our 29th annual Fur Ball auction + gala with student athletes auctioning off signed football and basketball jerseys! With their help, we were able to raise over $8,000 for the thousands of animals who enter our care every year!
Below you'll find a lovely gallery of photos featuring awesome KU athletes holding puppies, kittens, and helping your local animal shelter. We are truly honored to partner with Mass Street Collective and get the opportunity to know these kind and caring students. We look forward to meeting many more athletes in the future and showing them how special Lawrence Humane is to this community!

Several players from the football team showed up to help us with yard work, making dog enrichment, and organizing thousands of pounds of dog food in our pet pantry. Thirty players rolled up their sleeves and jumped right in, never losing their smiles or positive attitudes – no wonder they've had such success on the field! 

Definitely one of the highlights from our largest fundraiser of the year would hands-down be surprising our Fur Ball attendees to special guests – Brian Hanni, voice of the Jayhawks; and several players from the KU Men's Basketball and Football team! A huge thank you to Kevin McCullar, Elmarko Jackson, Dajuan Harris, Kenny Logan, Cobee Bryant, and Lawrence Arnold for showing up to the Fur Ball and helping us raise over $8,000 from the signed jerseys!

When KU athletics calls and asks if you'd be able to bring 14 puppies down to Allen Fieldhouse to surprise the basketball players and be part of their season schedule announcement, you load up the shelter van ASAP
  Each of the puppies were assigned a tag representing one of the schools we'd be playing. The players' task was to take the puppies out of the basket and act excited to play that team for the camera. Some of the players were really hammin' it up! Check out the videos below for the Jayhawk Puppypalooza! 
Official KU Athletic conference announcement for the 2023-2024 season
And a little behind-the-scene action!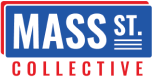 A proud partner of Kansas Athletics, Mass St. Collective works to create opportunities and build partnerships for its nearly 500 student-athletes to leave a lasting impact for generations to come. Since July of 2021 when the NCAA passed its NIL policy, student athletes have been able to build their brand and make positive contributions to their local community while receiving compensation through their name, image, and likeness. Prior to this NIL policy, it was difficult even as a nonprofit to work with student athletes.  Working with Mass Street Collective has been a wonderful opportunity for both our organization and the student athletes and we look forward to more exciting endeavors in the future!