At Lawrence Humane, we often transfer in dogs from other shelters when they are at-capacity or if they have an animal who requires special attention or resources. We are super fortunate to have an incredible vet staff and medical clinic with tools that many other shelters don't. Mulligan (Mullie) arrived to Lawrence Humane on a chilly fall weekend in 2022. She was transferred to us because Mullie had been attacked by an adult dog in the home and suffered some pretty intense head injuries. Upon initial inspection, Lawrence Humane staff believed her jaw was broken. They took an x-ray and as suspected, little Mullie had a broken jaw, a fractured canine tooth, and a puncture on top of her head. In fact, the broken part of her jaw was coming up through her gums – ouch!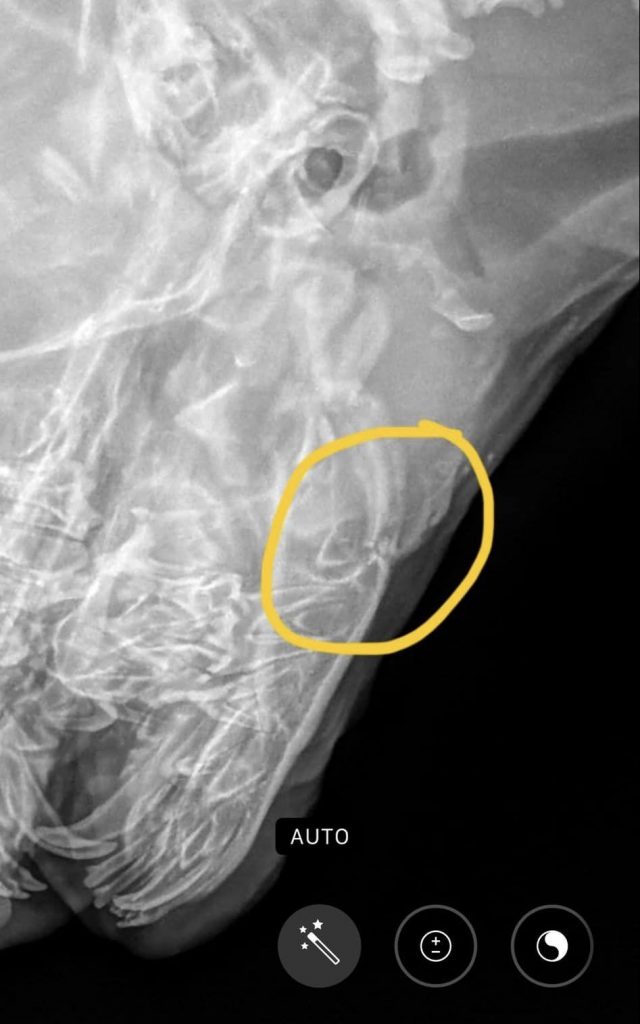 Below are photos of Mullie receiving care in Lawrence Humane's medical clinic and photos of her first days in foster care
We knew it would be best for her to get out of the shelter and receive special foster care so she went home with a staff member where she was fed soft food and water through a syringe, as she couldn't eat or drink very well on her own. Despite her pain, Mullie remained resilient and happy. She tried her darndest to behave like a normal puppy in between long naps by romping around and batting at toys with her paws.
To address her injuries, we enlisted the help of Companion Animal Dentistry of Kansas City. The good news was they could definitely help but Mullie's medical costs were outside the scope of our normal medical budget and we just couldn't give up on this spirited girl! With our loving community's help, we were able to raise the necessary funds associated with her surgery. Lawrence Humane staff scheduled a date for her surgery and drove Mullie to her appointment!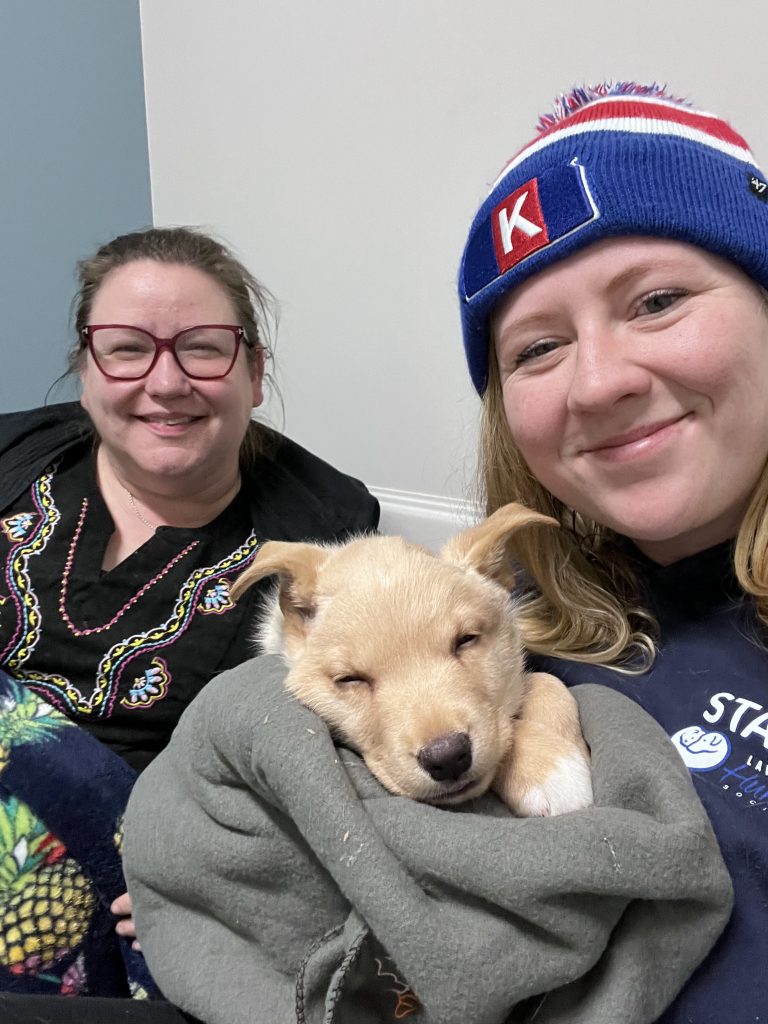 Mulligan's surgery went super duper and she was all buttoned up (literally!) The surgeons at Companion Animal Dentistry decided the "button technique" was the way to go for Mullie. You can read more about this surgery by clicking here. They extracted two teeth to prevent infection, realigned her jaw bone, and closed up the hole in her gums where the bone was coming out.
The buttons helped hold her mouth in place while she healed – kinda like if you ever had braces with rubber bands. It was evident she felt MUCH better post-surgery. She was ready to eat and drink like a champ and it was so much better than before because it didn't all fall out of her mouth!

For several weeks, Mullie acted just like any other puppy and was doing super well! Unfortunately, her buttons became a bit loose and fell off. We needed to keep her jaw stable for 8-12 weeks as the bones healed back together so the best thing was to keep her in a muzzle at all times. Her foster mom even sewed her a few cute muzzles so she would look her best! 
Once Mullie's jaw bones were healed up and she was cleared by the doctors, she was ready to be spayed and made available for adoption! Mullie's foster parents definitely weren't interested in adopting another dog (let alone a puppy!) but just couldn't let her go to another home after spending so many weeks caring for her so on March 14th, 2022, they "foster-failed" and officially made Mullie part of the family!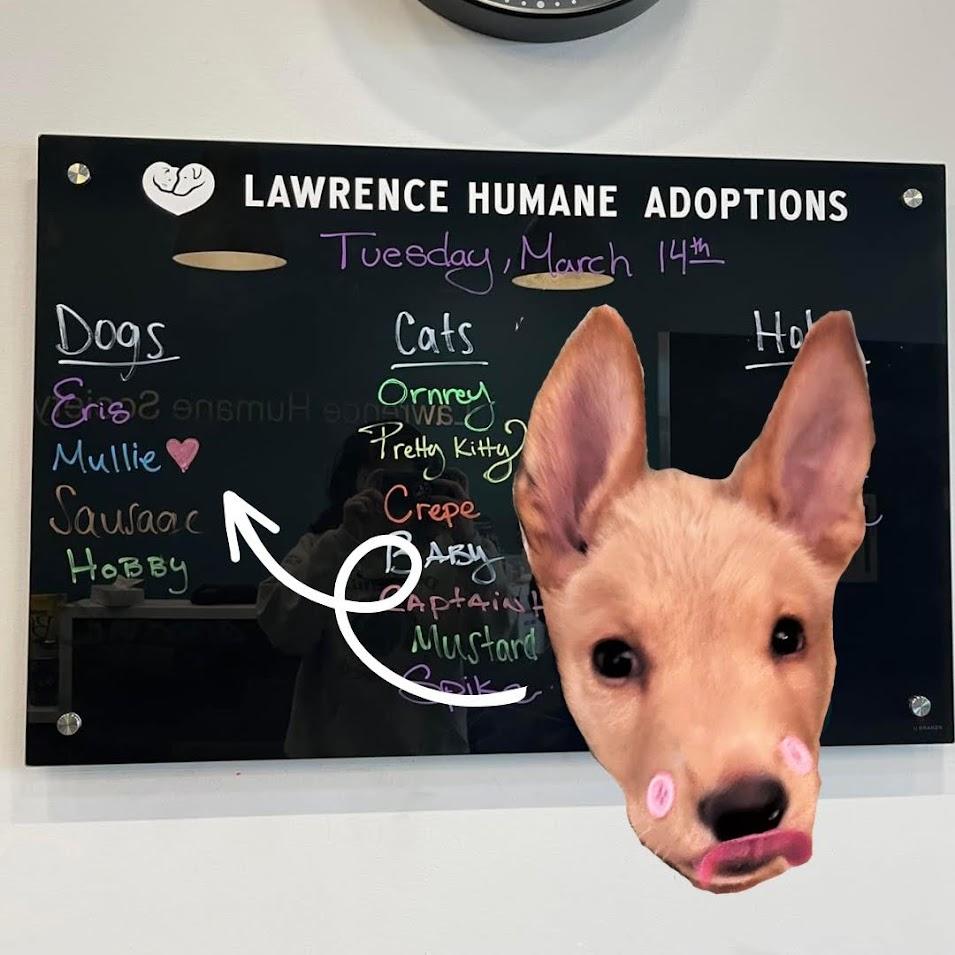 As the daughter of development team member, Sydney Martin, Mullie now spends her days advocating for Douglas County's one and only animal shelter! She was even the inspiration for our first-ever golf tournament, the Mullie Classic, which you can read more about here. If you ever attend a dog-friendly Lawrence Humane event, chances are Mullie will be there all smiles and ready to give you lots of kisses! Stay up-to-date on all of Mullie's shenanigans (and her famous Mullie Bleps™) by following her on Instagram (@marshmullie)!