Once a month, the Lawrence Humane Society participates in animal transports. We serve as a waystation for Best Friends Animal Society , giving animals a safe place to land for the evening and rest. You know how road trips are – gotta get out and stretch those paws!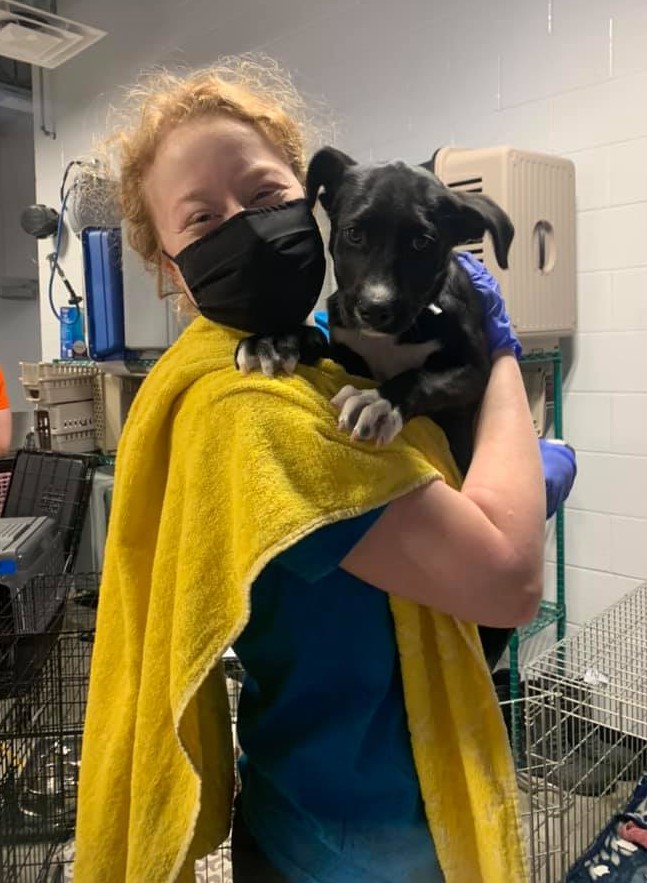 These lifesaving transports move animals from an oversaturated shelter or community to another community where those animals are more likely to find homes. Significantly more dogs and cats are killed in states like Texas, California, and North Carolina than in any other state due to a lack of shelter space and resources. Best Friends Volunteers drive a few dozen animals (once we had over 50 animals stay the night!) from the oversaturated community and makes a stop mid-way here at Lawrence Humane! Volunteers from Best Friends Animal Society and volunteers from Lawrence Humane show up, typically on a Friday evening, to help unload the kennels from the van, take dogs outside to use the bathroom, stretch their legs, and then move them into clean kennels with bedding, food, treats, and water. Cats get moved into a quiet area of the shelter where volunteers take them out their traveling kennels, give them some loving pets and scritches, and fill their sleep kennels with fresh bedding, a litterbox, food, and water. 
It's a bit on the longer side but you might enjoy this Facebook live of one of the transports back in 2021!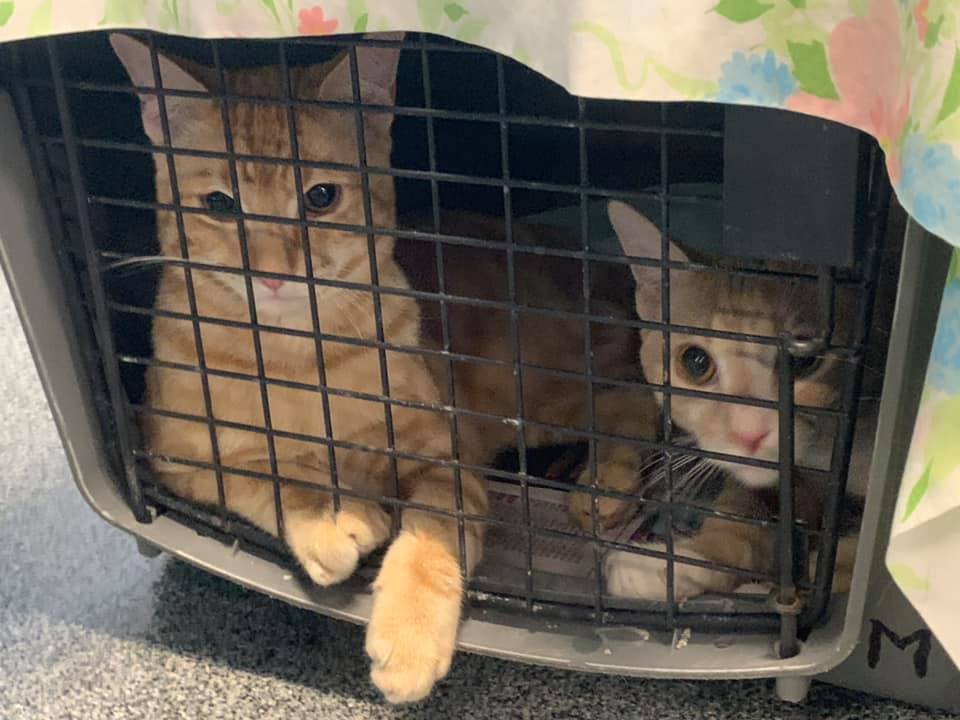 The next morning, we rise and shine to take the dogs outside again, and move them back to their traveling kennels. Same goes for the cats, minus the going potty outside
The transport driver then delivers them to their final destination, where they can decompress in their temporary home and wait for a loving family to come adopt them! 
This may sound like a lot of work but it saves so many animal lives. These transports provide the communities temporary relief by freeing up kennel space for other animals, who will inevitably arrive to the shelter. In addition, many transports include a mix of different animals including highly adoptable animals like smaller breed dogs but also provides the receiving community with harder-to-place animals. A diverse community of adoptable animals helps promote adoption as people's first choice. 
By giving people a wide selection of animals in shelters across the county, adoption counselors can match a family with an animal who suits their lifestyle best while simultaneously saving lives across the country. 
To learn more about Best Friends Animal Society and their mission, click here.
They stopped at the Lawrence Humane Society, essentially for an overnight hotel stay. Bright and early on Saturday, the group was loaded up again and set off for Minnesota, where their new owners were waiting. The two-day cross-country trek occurs once a month as part of animal welfare nonprofit Best Friends Animal Society's transport outreach, which moves pets from one shelter to another where they're more likely to be adopted.
Lawrence was a vital stop along the way for just over 300 transports last year, Lawrence Humane Society Executive Director Shannon Wells told the Journal-World, making it the stop with the highest volume in the country. The temporary tenants don't just sleep at the shelter — they're also fed, walked and treated to some much-needed socialization with the volunteers who stop by to help.
Our philosophy here at the Lawrence Humane Society has always been to maximize the resources that we have," Wells said. "We have this beautiful building, and if we can save more lives out of it, that's what we want to do."
The Lawrence Humane Society is a Best Friends affiliate, and it's also the midway point as volunteers with Best Friends in Houston drive dogs from Houston shelters to Ruff Start Rescue in Minnesota once every month — a nearly 1,200-mile journey. Volunteers have been stopping in Lawrence for about two years, Wells said. The previous overnight stop for the area was the Kansas City Pet Project.
For the animals, Wells said the lengthy trip is a "short-term stress for a long-term gain." That's because Texas is currently a very dangerous state for unhoused pets.
I just know from years of being in sheltering that there are some states that have such a high degree of euthanasia in their shelters, and meanwhile there are other communities that are almost a desert for animals," Wells said. "They can't meet the demand in the community."
In this case, Wells said Texas has one of the highest euthanasia rates in the country and has been an area of focus for Best Friends for the past five years or so as a result. According to statistics on Best Friends' website, more than 61,000 dogs and cats were killed in animal shelters across Texas in 2021, and only 150 of the 368 shelters in the state are no-kill shelters. The organization's working to reach "no-kill" status throughout the entire state by 2025.
Meanwhile, there's actually a dearth of adoptable pets up north. Ruth Anne Decker, a regular volunteer who assists with Lawrence's monthly transport stops, said it's often the case that the dogs making the journey are already spoken for, sight unseen, before they've even reached Minnesota.
Decker lives in Overland Park and travels back and forth to Lawrence to help with the transport every month. She even makes the round trip twice — once on Friday evenings, when the van arrives in town, and in the early morning the following day before it leaves for the second leg of its journey. In particular, Decker's job is to take the lead in the "puppy room," handling young dogs that are classified as "no paws on the ground."
Wells said it's a bit of a misconception that puppies are no longer susceptible to illness once they've received their first vaccinations. They also get some of their immunity from their mothers, which helps protect them through their early weeks. But once that immunity wears off, Wells said it varies from one animal to another how much they can be exposed to bacteria before getting sick. Animals designated "no paws on the ground" are treated especially carefully to make sure they're exposed to as little risk as possible.
"All these puppies will come with some degree of vaccination history; the question is, 'Is it enough?'" Wells said. "And then when you think of having animals in places where a lot of other animals are, there's a higher level of exposure. Dog parks, pet stores and animal shelters are generally places where we would want to minimize the risk as much as possible."
That leaves Decker to roll out the red carpet for the puppies staying at the Humane Society. On Friday, she sets up a play pen with many layers of towels and house training pads covering the floor. Then, one crate at a time, she lays down a hand towel to bridge the gap between each crate's doors and the play pen to keep their paws off of the ground, and also cleans up the area between sets of dogs. She repeats the same process the next morning.
They do their business and I feed them, and then I take off a layer and do the next group," Decker said. "It's a lot of bending over and a lot of cleaning cages; (it's) messy and a lot of work and I'm exhausted by Sunday, but I feel like I helped a lot of critters so I feel really good about it."
This weekend, Decker handled nine puppies — a third of the group on this transport — on her own, but the ages and types of dogs always vary from month to month. At any rate, she said it's pretty typical to expect to take care of around 30 dogs in total in each group.
That means Decker, who has been a transport volunteer with Best Friends for about the past year and a half, has played a part in helping hundreds of dogs travel to safety.
"It's a neat thing to be a part of, and it's great to give them just the few minutes of attention that you can," Decker said. "Some of them, there's been a couple that I've been around that they just want you to hold them the whole time, so I'll get them back out and hold them for a while. But most of the time, they're just happy to be fed and they're all excited about what's going on."
The Lawrence Humane Society is always looking for more volunteers, Wells said, especially for the monthly transports. The transports are facilitated almost entirely by volunteers, so every set of hands makes an impact. Wells said all you need to do to become a volunteer is complete an orientation, and folks who are worried about the specifics will get on-the-job training from more seasoned volunteers.
Those who are interested in volunteering or learning more can connect with Ashley Rice-Keen, the Lawrence Humane Society's volunteer and community engagement coordinator, at 785-371-0527 or aricekeen@lawrencehumane.org.
"Really, we just put it out there, cast a net and see who wants to come out here and help us," Wells said. "If we've got a lot of volunteers it goes really quick, we can get those animals out and get them stretched and all of those things quickly, which is only to their benefit."