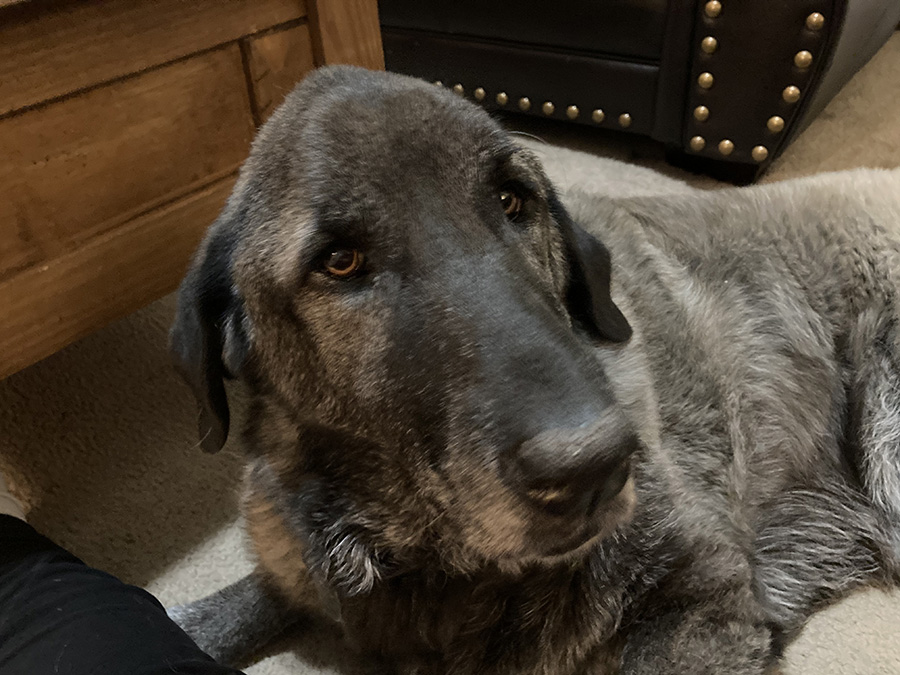 In May 2017, Bonnie Buzzard lost her dachshund, Roxie. She was heartbroken and believed she would never be able to love another dog the way she loved Roxie. Looking for a new dog to love, she checked the Lawrence Humane site frequently. Every time she looked, one dog always caught her eye – Kota. She was an older dog, half Black Lab and half Great Pyrenees, with the saddest eyes that just pulled Bonnie in. She and her husband finally went to meet Kota during Super Bowl weekend. When she got to Lawrence Humane Kota was so sad when they walked to her kennel, but that didn't stop Bonnie. She was there on a mission to get Kota and believed that they could bring out her happiness again.
Kota was amazing on a leash and very gentle from the moment she arrived home, but needed some extra care as she was ten pounds underweight for a breed like hers and had patches of fur missing. After proper care both of those issues were fixed and she looked healthy. She loved to chase the rabbits in the fields near Bonnie's house and comfort Bonnie's daughter anytime she was upset.
Around Thanksgiving of 2020, Kota started to go two to three days without eating or having bowel movements. After visiting Wakarusa Animal Hospital and running some tests it was discovered she had acute kidney failure. After getting her on medication for her kidney failure and removing her arthritis anti-inflammatories the battle became too much. She became weaker as she was unable to tolerate the medication she was being given. Eventually, the tough decision had to be made and on December 23rd, 2020 her vet drove out to the family home as they said their final goodbyes to Kota. Although this story doesn't have as happy an ending as many of our other adoption stories, we are thankful to adopters like Bonnie who gave an animal a second chance at a great life. Kota was an older soul when she arrived at the shelter but got to live out the rest of her life with an amazing and caring family.